Magnus Elander and Stefan Strandberg on their November visit to Catalonia to photograph the Lammergeier.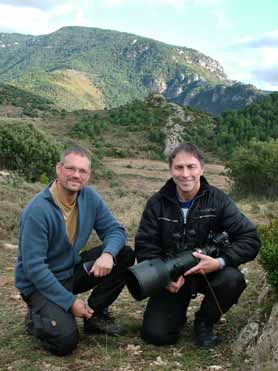 Really nice guys.
I'm sure the creators of the wild wonders of Europe project won't mind if I use their own words "unseen, unexpected, unforgettable". After all Magnus Elander was very pleased with the results after spending 3 days in our Lammergeier hide (thanks to the birds and not the hide itself, which is a far cry from the Ritz).
Unexpected: the experience was certainly so, in Magnus's own words. He didn't know what to expect, but neither he nor Stefan (his assistant) were disappointed.
Unforgettable: it's hard to talk for someone who has dedicated most of his time to photographing many of the world's natural wonders, although surely the vision of 11 Lammergeiers in one place is not something he will forget overnight!
Unseen? Almost so for 3 days, apart from a small party with a couple of birders from Barcelona who stumbled upon Magnus and Stefan as they were packing up to leave.
Before departing I presented them both with signed copies of my two books ("Where the Birds are in Northeast Spain" and "Flying over the Pyrenees, standing on the plains"), which they received with enthusiasm. Then a short interview, photos, handshakes and farewells. Their next destination was Ordesa National Park (see itinerary), while I was going home, the long way round.
What is the "Wild Wonders of Europe" project?
Magnus: "It was started by three photographers: from Sweden, Germany and Scotland. The basic idea is that more than 50 European photographers are to travel to another European country with an assignment to photograph some aspect of the natural world: it could be a species, landscapes or other. The final results will include books, a website, an exhibition, a special issue of National Geographic…
What did you like most about your time here?
Magnus: "The scenery is breathtaking, we don't have places like this in Sweden. The solitude too. In all it feels like being at home, but better."
Thank you Magnus and Stefan, and bon voyage.