It's happened.
After more than 25 years I've relegated my faithful Nikon Fieldscope EDII from first scope to supporting scope role. It feels a little bit like infidelity on my part, as I became fond of saying that the scope would retire when I did, and yet I just went out a bought a new Swarovski.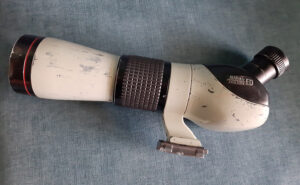 My Nikon fieldscope EDII, battered but alive
My Nikon slipped into and out of the backpack with ease, and could almost be carried in deep pockets. That's a valuable quality when travelling by plane or train, or in a vehicle which is not one's own. I have the 20-45x zoom lens, but soon neglected it in favour of the 30x wide-angle lens, which is perfectly adequate, and as a stand-alone no one who is reasonably objective has ever criticised it. Of course, when someone sets up a new Swarovski, or Zeiss or similar alongside it then my somewhat battered Nikon doesn't shine its brightest when compared directly.
On my very first day as the leader of my very first bird tour my almost new Nikon flew out of its case that was strapped over my shoulder as I turned swiftly and it landed with a heavy clunk on the asphalt of the fishing port of Sant Carles de la Ràpita. It wasn't supposed to be able to do that, and I felt indignant. Then, when I looked down the barrel through the far end of the scope and I saw the prism inside was cracked my heart really sank. I was convinced that my telescope was no more. However, when I set it up on the tripod and took a deep breath before looking down the objective and turning the focusing ring … the image I saw was surprisingly clear. Hurriedly, I focused on an Audouin's Gull, and what I saw gave me hope for the future…
… Now the future is the present, a quarter of a century later. The Nikon fieldscope EDII has served me well, and it's job isn't over yet. I hope.