Birding around Barcelona
This could be an important notice for all birders planning to visit the Llobregat Delta reserves, maybe before taking their flight back home from Barcelona airport, or starting their birding trip after flying into the same.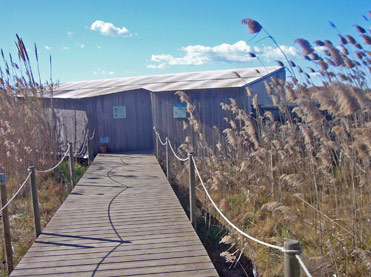 The opening times of the Cal Tet and Remolar-Filipines reserves of the Llobregat Delta are less than convenient, so don't get caught out like I was recently. It could put an unwelcome slant to your birding plans!
Furthermore, the access road to the Remolar-Filipines reserve has a barrier that is lowered when the reserve is closed, and at weekends, which causes problems of a different nature, namely:
(i) When access is barred you have to walk for about 15 minutes each way if you want to go to the beach and do a seawatch, for example.
(ii) At the same time the only option for parking your vehicle is in an un-manned car park another 5 minutes away. But that's not all! This also has its opening and closing times, and any cars left inside when the gate is closed remain there until the gates are opened the following day.
(iii) If you manage to drive along the reserve access road to the car park at the entrance to the Remolar-Filipines reserve well done, but don't be too complacent. Once I was with birding clients visiting the reserve before dropping them off at Barcelona airport and we were locked in! It was my fault – after the reserve closed I suggested doing a very profitable seawatch from the nearby beach, ignoring the fact that the barrier at the head of the access road was lowered shortly after the Llobregat Delta reserve itself was closed.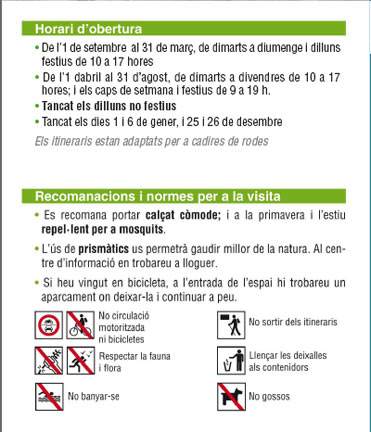 If you need a translation just send us an e-mail and we'll be happy to send you one. 
So be informed! Here are the current opening times – you might need a bit of time to study and memorize them, but it could be worth your while. Remember that birding in the Llobregat Delta on the edge of Barcelona can be a rewarding activity. On recent visits with clients we have seen birds such as Greater Flamingo, Purple Gallinule, Yelkouan Shearwater, Common Waxbill, Penduline Tit, plenty of waders, ducks, terns and gulls, and even a group of Bottlenose Dolphins close to shore!