Last week one of those nice birdie surprises came to me in a rather large package. The first Great Bustard to be recorded in Catalunya for almost 14 years flew past me as I was out on the drylands of Lleida trying to get close to a couple of Great Spotted Cuckoos. Of course I had a good idea of the unusualness of the sighting, although I had to check the bibliography to get the full details: the previous record of the Great Bustard in Catalunya was that of 2 birds at Belianes between 15th and 22nd July 1995. The previous record to that one dates back to August 1987.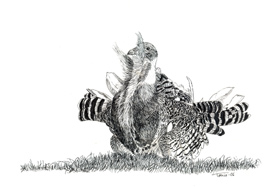 Displaying Great Bustard as depicted in "Flying over the Pyrenees, standing on the plains"
The sighting caused quite a stir among the local birders and forum-followers. I received congratulations, and even a couple of phone calls, their makers keen to get more details. And could the observation be used to illustrate importance of the remaining drylands in Lleida, threatened by a badly thought out irrigation scheme?
Who is not seduced by the idea of the Great Bustard making a comeback to Catalunya as a breeding bird, after an absence of half a century? But let's get real: no more than 80 Great Bustards remain in the Monegros, the nearest regular site for the species, and the impending pincer movement of the Gran Scala casino complex and the Segarra-Garrigues irrigation scheme is most unlikely to leave them with many options for recolonisation of lost territory.