A fine walk with a group of keen birding newbies from the castle of Montsonís was one of the last local activities I had the joy of organizing before starting serious tour work. We all enjoyed a beautiful spring day and a variety of good birds too: a pair of Egyptian Vultures making baby Egyptian Vultures, and also a pair of Bonelli's Eagles. We had good looks at Bonelli's Warbler, Chaffinch, Blue Tit, Great Tit, Swallow, House Martin, Crag Martin, Blackcap and Robin. I enjoyed it and, most importantly, so did the public.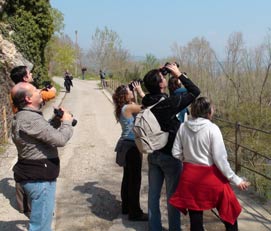 Then came Tom and his lovely lady from Germany. Tom is a photographer, and to make bird photographers at least moderately happy is by no means an easy job. Well, thanks to the weather I had an even more complicated task. Day 1 came down to a drive in the increasingly heavy rain. On Day 2 I convinced them to visit Loarre castle, where it had just been snowing! It was really cold and Tom was about to pack his bags and leave. Luckily we had a clear spell around midday when the discovery of a dead sheep on a farm allowed him to get some very good shots of Egyptian Vulture, Griffon Vulture and Red Kite. Another castle nearby also provided the goods in the form of Chough, Spectacled Warbler and Blue Rock Thrush.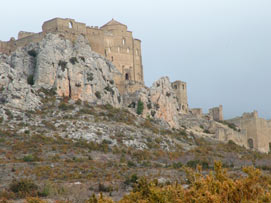 Unfortunately we were not together when I watched a Lammergeier breaking a bone later in the afternoon.  
On day 3 we were assailed by a buffeting wind – photos of Sardinian Warbler and Scarce Swallowtail were the hard-earned fruits of our labours that day.
Tom was then going to head on down to Extremadura. I hope he had better luck with this crazy spring weather!