Participate in our birds and birders survey!
At Birding In Spain we would like to conduct an informal survey of birders and birding. We are interested in getting insight into your birding experiences and outlook. If you can find the time help us by writing your answers and sending us an e-mail. Thanks!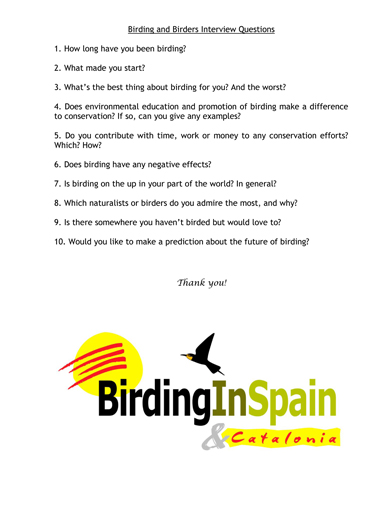 The questions are:
1. How long have you been birding?
2. What made you start?
3. What's the best thing about birding for you? And the worst?
4. Does environmental education and promotion of birding make a difference to conservation? If so, can you give any examples?
5. Do you contribute with time, work or money to any conservation efforts? Which? How?
6. Does birding have any negative effects?
7. Is birding on the up in your part of the world? In general?
8. Which naturalists or birders do you admire the most, and why?
9. Is there somewhere you haven't birded but would love to?
10. Would you like to make a prediction about the future of birding?
We invite you to complete and send us the answers via e-mail. A pdf version is also available on request.
Happy birding!