100 butterflies
The Birding In Spain butterfly list of 2014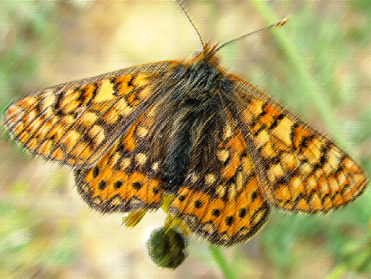 Common name
Swallowtail

Scarce Swallowtail

Spanish Festoon

Apollo*

Black-veined White

Large White

Small White

Green-veined White

Bath White

Orange-tip

Moroccan Orange Tip

Clouded Yellow

Berger's Clouded Yellow

Brimstone

Cleopatra

Wood White

Provence Hairstreak

Green Hairstreak

Sloe Hairstreak

False Ilex Hairstreak

Ilex Hairstreak

Blue Spot Hairstreak

Small Copper

Scarce Copper*

Long-tailed Blue

Lang's Short-tailed Blue

Holly Blue

Little Blue

Osiris Blue

Green-underside Blue

Black-eyed Blue

Panoptes Blue

Silver-studded Blue

Brown Argus

Mother-of-Pearl Blue

Chalk-hill Blue

Adonis Blue

Common Blue

Duke of Burgundy Fritillary

Nettle-tree Butterfly

Monarch

Plain Tiger*

Southern White Admiral

Camberwell Beauty

Peacock Butterfly

Small Tortoiseshell

Large Tortoiseshell

Red Admiral

Painted Lady

Queen of Spain Fritillary

Comma Butterfly

Cardinal Fritillary

Silver-washed Fritillary

High Brown Fritillary

Dark Green Fritillary

Twin-spot Fritillary

Marbled Fritillary

Glanville Fritillary

Knapweed Fritillary

Spotted Fritillary

Meadow Fritillary

Provençal Fritillary*

Heath Fritillary

Marsh Fritillary

Spanish Fritillary

Marbled White

Iberian Marbled White

Esper's Marbled White

Western Marbled White

Spanish Marbled White

Grayling

Tree Grayling*

Striped Grayling*

Black Satyr

Great Banded Grayling

False Grayling*

Piedmont Ringlet

Autumn Ringlet*

Meadow Brown

Dusky Meadow Brown*

Gatekeeper

Southern Gatekeeper

Spanish Gatekeeper

Small Heath

Dusky Heath

Pearly Heath

Chestnut Heath

Speckled Wood

Wall Brown

Large Wall Brown

Grizzled Skipper

Oberthür's Grizzled Skipper

Safflower Skipper

Red Underwing Skipper

Marbled Skipper

Mallow Skipper

Dingy Skipper

Large Skipper

Small Skipper

Silver-spotted Skipper*
* Denotes a butterfly seen in 2014 but not with clients present.
Bearing in mind that it's not always a given thing to get birders to look at butterflies we consider that there are some interesting insects on this list.
The targets for 2015 are to fill in a few of the gaps, especially as far as the later species are concerned. It would also be great to gain some more confidence with some of those challenging "blues".