Collins Bird Guide App, a review of sorts.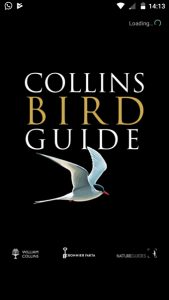 Years ago, when we got married, my wife's work colleagues at the time made us a gift of a new microwave oven. This was back in the early 1990s, when not everyone had a microwave, and well before the era of mobile phones. True to my luddite streak, in private, I rather ungratefully declared "Who needs a microwave"? Because if I wanted to boil milk I used a saucepan, I had the kettle for boiling water, cooking was done in the oven, and defrosting food was planned the night before.
I've mellowed somewhat over the years, at least that's what my wife tells me now and then; even so, I must admit I was tempted to say, "Who needs the Collins Bird Guide as an app?". Now I've always said that the Collins Bird Guide – in its traditional paper and ink form – would remain unsurpassed by any similar field guide for decades to come, and I feel that that particular statement has the ring of truth, unless we get pedantic and count second and third editions etc.
So I have the Collins Bird Guide if I want to see an illustration of the species itself, see the bird in its natural habitat, glance at a distribution map with colours for winter, summer etc, read a useful descriptive text, or even have a description of the bird's song and calls. What more could I need? And, furthermore, how could an app replace the feeling of leafing through a bird book?
Well, what I didn't realize is that it doesn't need to replace anything, rather this app has made a niche for itself and is ideal for anybody who is out and about birding in Europe, and even more so if you happen to be a professional of the birding world. The book is still there for you on the shelf, perhaps in the car or at best in the backpack, although if you have the app on your mobile phone then you might as well save yourself the inconvenience of the latter.
This app does everything the book does, as you'd expect, and without getting dog-eared, but what else can it do? Well, the list is quite substantial:
(i) Instant alphabetical search function – just type in the name of the bird species and the options appear as you write. Of course this is a commonsense feature, but just think of any beginner birders you may know and the difficulties they have finding their way through the standard guide, "Why aren't the birds in alphabetical order?" is a question I have often been asked.
(ii) Comparison feature allowing the user to compare similar species or any species they want, up to 6 in all – even if you think Crested Larks and Hoopoes both have a crest and so need to be compared the app will not put up any obstacles or raise any objections.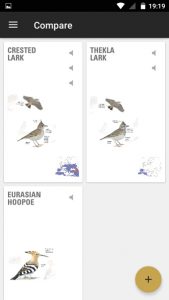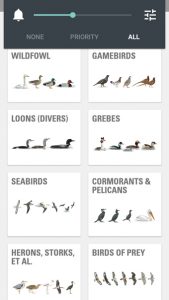 (iii) Recordings of most species' songs and calls – making redundant the very variable interpretations of the phonetics of descriptions such as "voy voy…vüüü(cha)… vüüü(cha) swe-swe-swe-swe-swe sisisi … svee, sveeh" (can you tell me which species that refers to off the top of your head?). Just play the call (looped) and there is no need for any words to get in the way – however, they're still in the text if you're a fan.
(iv) The "My list" feature offers you a simple note-taking capacity. Admittedly, I personally still prefer the written notebook, but that may change.
(v) Add-to (and pay-for) features already available or nearly so include Bird Atlas 2007-11 maps if you have a special interest in Britain and Ireland, and species videos, many of which are brand new and have been filmed especially for this app.
In summary, in the field this all this translates to:
What does the bird look like? That.
What does it sound like? That.
What's its range in Europe? That.
How is it different from a Hoopoe? There.
OK, so having established that this app is the best thing to happen to European birding since the Collins Bird Guide was published, is there anything the app doesn't do, and perhaps could? Well, I miss a bit of "fun", for example a quiz option where you can challenge your buddies or students to identify the species from the song (fingers on the buzzer or not) or the distribution map, or even "bits" of the bird in question. Furthermore, some of the recordings are of below average quality, although I have been informed that this is a shortfall which is likely to be rectified in later editions. Another thing is that, as with any app, it's not as easy to lend as a book is. Come to think of it, that's got to be an advantage.
The Collins Bird Guide app or, "Who needs a microwave?". I do!