It was a windy day on the Ebro valley plains for me and the Liberty Bird group from Switzerland. Looking for Dupont's Larks was going to be hard work, luckily we had taken out our own insurance policy and were staying two nights at our hotel in nearby Lécera.
All told we had some pretty good birding. The highlights of one day and one morning's birding in the plains were: Dupont's Lark (seen on the second morning), Pin-tailed Sandgrouse, Black-bellied Sandgrouse, Black Wheatear, Golden Eagle, Egyptian Vulture, Montagu's Harrier, Melodious Warbler, Wryneck, Tawny Pipit, Black-eared Wheatear and Lesser Kestrel.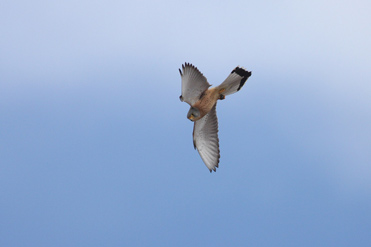 Lesser Kestrel. Photo by Beat Rüegger
Next stop: the steppes between Candasnos and Ontiñena. Here our main birds were Black-necked Grebe, Red-crested Pochard, Booted Eagle, Little Bustard, Spectacled Warbler and Thekla Lark.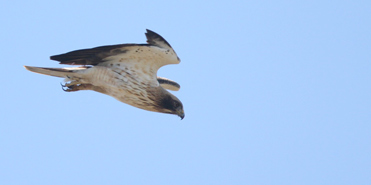 Booted Eagle. Photo by Beat Rüegger.
Then wonderful sunny weather in the Pyrenees just had to be shared with some special birds too. Lammergeier, Citril Finch, Alpine Chough, Honey Buzzard, Alpine Swift, Wryneck, Water Pipit and Bonelli's Warbler are the birds that didn't let us down in the mountains.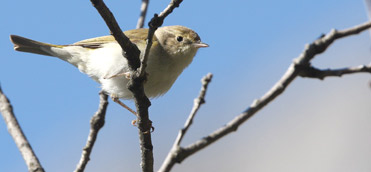 Western Bonelli's Warbler. Photo by Beat Rüegger.
The next couple of days were spent in the plains and Pre-Pyrenees not far from my home town, Lleida. Everybody will remember the Ortolan Bunting, and I'm sure most will recall Rock Sparrow, Orphean Warbler, Blue Rock Thrush and the Sardinian Warbler. Sadly, I was the only one to see the female Rock Thrush at Mont-roig.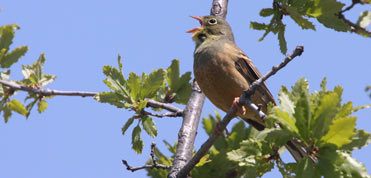 Ortolan Bunting. Photo by Beat Rüegger.
Oh yes! I should have mentioned the Bonelli's Eagles, Little Bustards, Little Owls, Rollers, Stone Curlews and Bearded Tits. How forgetful I am at times. 
The Ebro Delta held up well to our scrutiny too. One of the rarer birds we saw was a handsome summer-plumaged Marsh Sandpiper, but there were a lot more waders to choose from. An assortment of little avian delights also included Temminck's Stint, Little Bittern, Collared Pratincole and Mediterranean Gull. I am not going to write a long and rather tedious list of Ebro Delta bird names, so it should be enough to say we saw just about everything you could expect to see in the Ebro Delta in early May. 
See more of Beat Rüeggers photos from his Spanish and other bird tours on his website:
http://www.ornitour.ch/Photo_Galerie/PGSpanienreise09.html
Collared Pratincole. Photo by Beat Rüegger.
The whole trip ended with a list of 210 bird species in all – very good, but try saying them all in Swiss German!