Birding and walking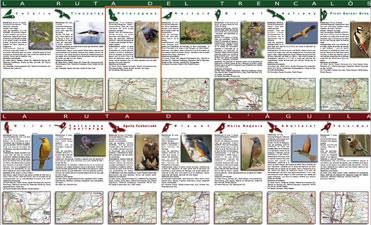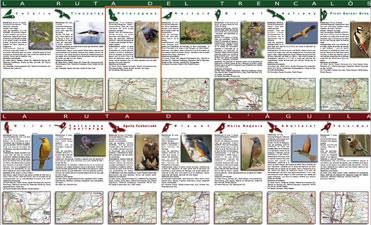 The Wallcreeper, Tichodroma muraria, is a special bird. It clings to vertical walls, it inhabits some of the most breathtaking spots, its wings flash black, white and crimson, like the wings of a butterfly. So we're very lucky to have Wallcreepers as a breeding and wintering bird in northeast Spain. In Lleida and Catalonia.
Some years ago now the Montsec consortium asked us to design some birding routes. We got down to the task with enthusiasm and came up with a birding map divided into two main routes: the Eagle route (Bonelli's Eagle) and the Lammergeier route.
Each route could be followed by car, and then the occupants were invited to walk one of 6 itineraries in search of birds, intimate contact with the surroundings, and a healthy occupation. OF course, one of the routes just had to be dedicated to the Wallcreeper!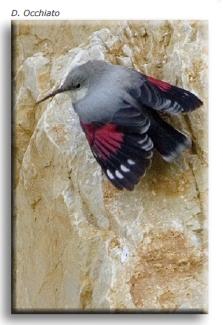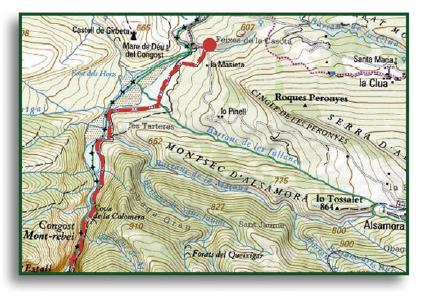 The Wallcreeper text reads as follows:
Wallcreeper
Length: 7 km, 3 hours.
Characteristics: Relatively flat and easy, although the narrow path may provoke vertigo in some.
Access: Pont de Montanyana. A secondary approach also exists from Alsamora.
Starting point: 3098204663537. Congost de Montrebei reserve car park (wardened).
Indications: Follow the lower path alongside the reservoir, cross over the suspension bridge and continue on into the gorge. It is recommended to  follow on at least to the Cave of Colomera before turning back along the same path. This is a popular area for visitors in the summer.
Main species:
(i) Griffon Vulture, Golden Eagle, Orphean Warbler (S), Subalpine Warbler (S), Nuthatch, Red-billed Chough, Rock Bunting.
(ii) Lammergeier,Wallcreeper (W).
So if you happen to be in the neighbourhood of Montsec between November and March it could be something to bear in mind.
Happy Birding!