Biography - Steve West & Florinda Vidal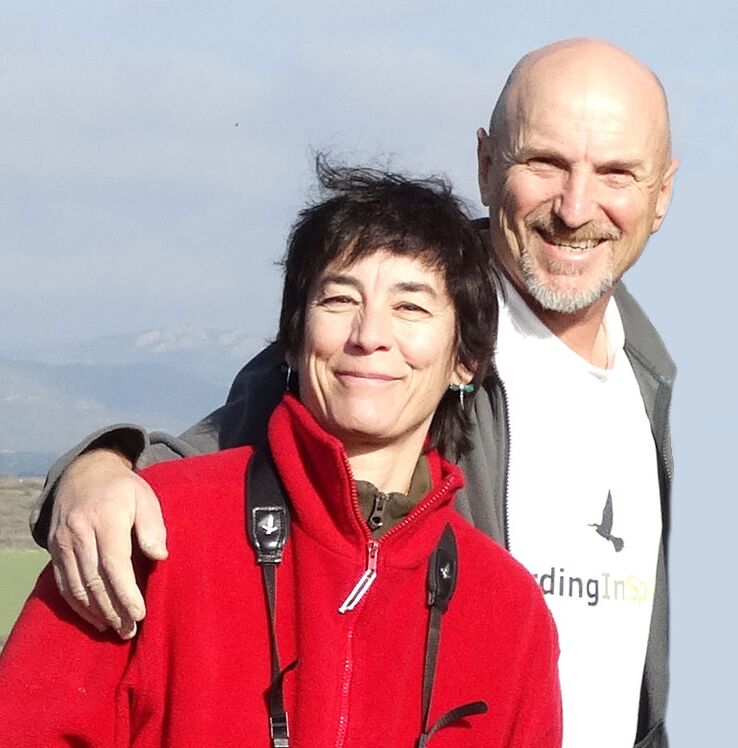 Steve hails from Hampshire, England, but has been living in Catalonia since 1988. He has always been a keen birder, and avid exploration of his new homeland led him to write two books on the birds of northeast Spain, Where the Birds are in Northeast Spain, and Flying over the Pyrenees, standing on the plains.

He has been designing, guiding and leading bird tours in Spain and abroad since 1996, and in 2007 established his company Birding In Spain, which he runs with his wife, Florinda. Steve used to be a bit of a lister, but nowadays gets more of a thrill from helping others find and enjoy the birds he has become so familiar with.
Steve is fluent in English, Spanish and Catalan.


Florinda was born and bred in Catalonia, where she lives to this day. She graduated in tourism before becoming a PA, and then partnered with Steve in the running of Birding In Spain. In recent years she has acquired experience in co-leading some of the tours, which makes a nice change from being stuck in the office with the payments, administration tasks and the like that she usually has to deal with! She is a person's person, and brings a refreshing air to any professional relationship she is engaged in.
Florinda is fluent in English, Spanish and Catalan and has a working knowledge of French and Italian.
Contact us, talk to us. info@birdinginspain.com