The Hides
Birds and Hide Photography - Birdinginspain.com

A total of 7 hides each one specifically designed to get the best shots, they are:
Little Bustard and Plains Birds Hides
And also you can discover how me made our first hides!
The Little Bustard and Plains Birds Hides


For one or two photographers; temporary and mobile; some with glass, and some without.
The Bonelli's Eagle Hide

The Bonelli's Eagle Hide has capacity for 3 + 1 photographers; high success rate; get really close to these spectacular birds.
The Lesser Kestrel Hide

Raised so you see eye-to-eye with the members of a colony; glass-fronted; recommended for two photographers.
The Pool Hide

Ideal for a shorter, less programmed session; more than 30 species photographed so far; best in the spring.
The Lammergeier Hides

Lammergeiers, Griffon Vultures, Black Vultures and Egyptian Vultures all regular visitors when they can be expected; recommended for up to 3 photographers.
The Egyptian Vulture Hide

Photograph Egyptian Vultures, Griffon Vultures and Red Kites in large numbers; glass-fronted and great background for flight shots.
The Raptor Hide

Click to see what photo trips we have for you
Our First Hides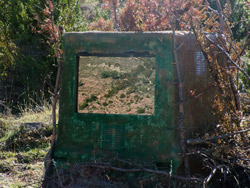 Our first hides were inverted heavy duty plastic municipal bins with a glass front for a single person! OK, they weren't the most comfortable of hides, but they certainly did their job well, enabling  a large number of European photographers to get excellent shots of Lammergeiers without frightening or disturbing these magnificent birds.
That was in 2008. Since then we've tried and tested different models, and adapted them to the species, the place and the conditions of use required from them. We've also made most of them rather more comfortable and spacious!
In 2010 we designed and built 2 new hides for the Lammergeier site, which have since been used by dozens of keen photographers of Lammergeiers, Griffon, Black and Egyptian Vultures.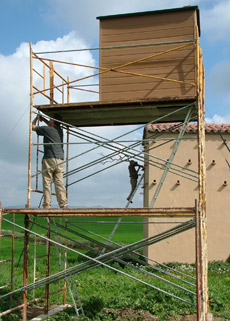 The following year we erected a pool hide at Montsonís, from which more than 30 species of songbird, along with the occasional Sparrowhawk, have been photographed.  We used the same model of hide for our Lesser Kestrel site, although the latter had to be erected on a platform, to get eye-to-eye with the birds nesting on the tiled roof of a farm building.
In 2012 we also erected two larger, 3-person, glass-fronted hides, one for Bonelli's Eagle and the other for raptors in general, including Goshawk, Golden Eagle, Red Kite and Buzzard.
Our
plains hides
are different: the sites are temporary by nature, and so the hides must be easy to transport and relocate according to the variable movements of breeding birds in the spring. These are simple hides for one or two occupants, and with no glass. The spectacular results we have obtained from these over recent years have shown that they are very effective.

Summary of Bird and Hide Photography: