Some Things You Should Know before going to a Photo Trip
Birds and Hide Photography - Birdinginspain.com

Distances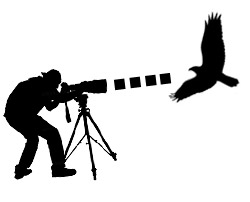 Distances from the bird depend on the species and the site in question. Here are some general indications to guide you (perched birds):

Bonelli's Eagle – 10 to 25 metres.
Golden Eagle/Goshawk – 12 to 25 metres.
Lammergeier – 15 to 60 metres.
Pool Hide – 2 to 8 metres.
Lesser Kestrel – 8 to 30 metres.
Little Bustard – 8 to 40 metres.
Hoopoe – 5 to 10 metres.
Why Glass?
We use glass on all our raptor hides. This is because raptors have excellent eyesight and are often very wary. Our initial experience with Lammergeiers showed us that the birds were very wary of lens movements, and that repeated attempts at photography in this way could scare the birds away from the site for a long time.
With glass the birds see nothing but reflections. No lens movements, just their own, which they get used to with no negative effects. With glass noise is reduced and your movements inside the hide become much freer and easier. For us, glass is the way.
How does glass affect your photos? Well, you will lose some light, between 1 and 2 f-stops. Otherwise your images will be as sharp as ever, except in the case of shooting at an angle of more than 30º through the glass, where you might notice some small aberration.
Temperature
You can expect temperatures down to -5ºC in the depths of winter, and up to 35ºC in May or June. So it gets cold in the winter, and hot in the spring/summer!
Recommended Lenses
For the best shots we recommend 300mm to 500mm or 600mm and focal converters.
What's a tipical day in a Hide?
That depends so much on the species and the time of year!
Plains birds – in April, May and June the weather usually gets quite warm around midday, and the light is intense. Normally you'll be in the hide for the crack of dawn, spend a few hours until approximately 10 am, and then leave the hide for some free time (scenery, plants, butterflies, lunch, siesta – whatever you feel like doing). Then you'll return to the same or another plains hide around 5pm and stay there until the light and more photo opportunities fade.
Bonelli's Eagle – Normally the eagles visit the site in the morning, although a dawn hide entrance is not necessary. Here a 9 am entrance is usually sufficient, and you may well be ready to leave the hide by 2 pm. If you have any time left you can try the nearby Pool Hide.
Goshawk Hide – A pre-dawn entrance is best, as Goshawks are often at the site at the crack of dawn!  But there's more… Golden Eagles, Buzzards, Marsh Harriers and Red Kites may visit the site throughout the morning and early afternoon, so make yourself comfortable!
Lammergeier – You'll be accompanied to the hide after dawn, and you'll spend the remainder of the day here. Once the food is delivered you will normally have a very busy time with Griffon Vultures, Lammergeiers and often one or two Black Vultures too.
Seats
Chairs are provided in all hides.
Toilet Facilities
Two of the Lammergeier hides have a toilet, as does the raptor hide. The others have none.
Summary of Bird and Hide Photography:
4 - Things you Should know before going a photo trip