Our Photo Trips
Birds and Hide Photography - Birdinginspain.com

The Raptor Special
3 hide days, 4 nights accommodation at Montsonís. Suitable period from September to April.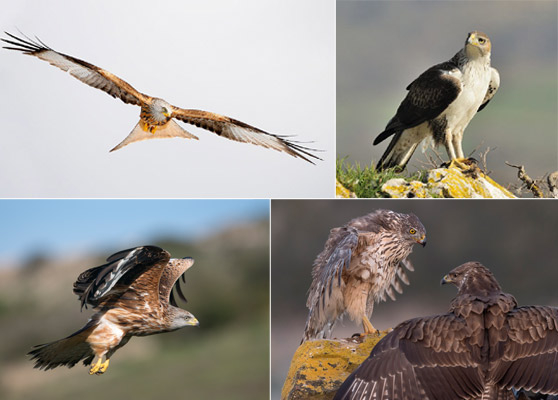 Possible species: Bonelli's Eagle, Golden Eagle, Goshawk, Red Kite, Common Buzzard, Marsh Harrier.
Spring on the Plains
Spring on the Plains – 3 hide days, 4 nights accommodation at Montsonís. Suitable period from mid-April to mid-June.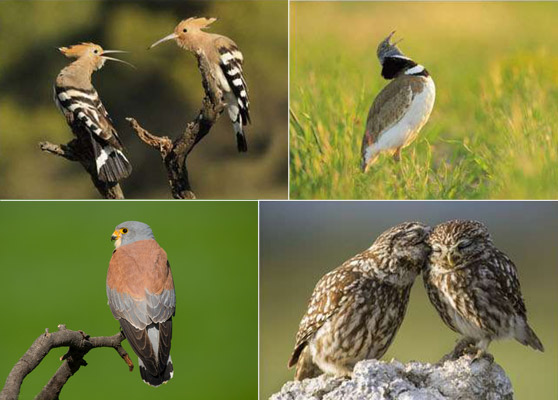 Possible species: Little Bustard, Little Owl, Roller, Bee-eater, Hoopoe, Montagu's Harrier, Stone Curlew, Lesser Kestrel, Hobby.
Lammergeiers and Eagles
Lammergeiers and Eagles – 3 days hide, 4 nights accommodation, at least 2 nights at Montsonís. Suitable period September to May.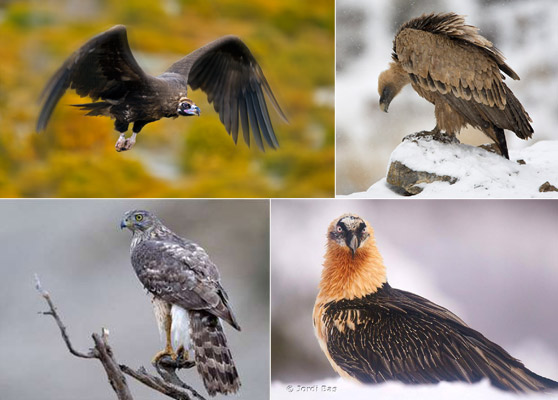 Possible species: Lammergeier, Black Vulture, Griffon Vulture, Egyptian Vulture, Bonelli's Eagle, Golden Eagle, Goshawk.
Pick and Mix
Pick and Mix – A combination of the above, depending on the time of year and hide availability. Tailor-made trips with extensions beyond the standard 3-hide day photo trip are possible.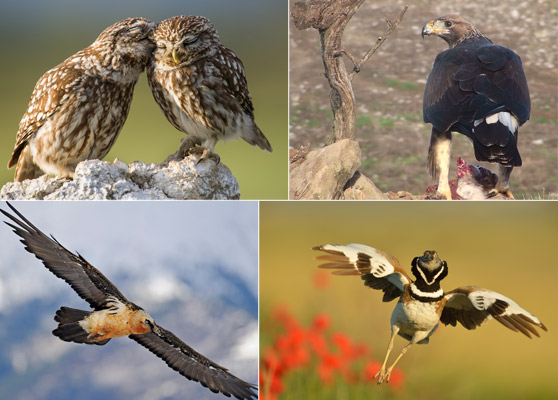 Phototrip Details
What's included in the package?
The standard 4 night 3-day photo trip includes 4 nights accommodation in an en-suite room (Single Room Supplement applicable if required), all meals (breakfast, picnic lunch, 3-course evening meal with wine) from evening of arrival to breakfast on day of departure, guiding, use of hides, permits, VAT.
What's not included?
Extra drinks, etc. not on the menu, airport transfers, personal items.
Prices
Different prices applicable for single photographers, groups of 2+, and tour operators. Please consult.
The Place, where is it?
Our home base is at Montsonís, near Artesa de Segre, in Catalonia. It is approximately a 1hour 40 minute drive from Barcelona airport. Montsonís is a quaint, quiet Medieval village where you will very quickly feel at home.

We are only some 20 minutes from the Lleida drylands, where our plains hides are located, while we have the Bonelli's Eagle on our very doorstep!
Airport transfers
Although these are not included in the price we can help to arrange a taxi for you at the most competitive prices if you do not wish to hire and drive your own vehicle.
The Accommodation
At Montsonís you will be accommodated in en-suite rooms in homely and well-furnished apartments, complete with kitchenette, TV and lounge area.
Evening meals are taken in the Botiga de Montsonís, a superbly restored "cavern" and shop, filled with local products. Perhaps you'll have the time to look for a book or a souvenir to take home?
Meals
Breakfast is a light affair, with toast, jam, cheese, ham and rolls or sponge cakes, for example. Coffee and orange juice are never in short supply!
The picnic lunch is a man's size sandwich made with the Catalan "pà amb tomàquet" and with the filling agreed the previous evening.  There is also fruit, nuts, biscuits and a drink. You're going to spend most of the day in a hide, but we won't let you go hungry!
Evening meals are the time to relax, get together with the group, to wonder at each other's photos, to make plans for the next day, and to enjoy a really good meal. It's a 3-course meal, usually with a varied menu of local dishes that's on offer, and all washed down by a glass or two of local wine.
The People

The staff in the restaurant, shop and at reception know the importance of working with a smile. They will make sure that you are well attended and will make you feel at home.
Next: Some Things you should know before going to a Bird Phoho Trip»

Summary of Bird and Hide Photography:
4 - Things you Should know before going a photo trip