Birding In Spain binocular review
We are proud to announce that recently Birding In Spain has struck up an interesting area of collaboration with Vanguard, manufacturers of sporting optics, camera bags and accessories, tripods, etc.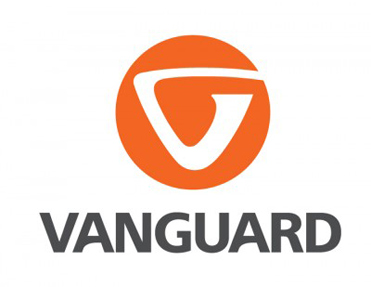 But first of all a confession: We were not at all familiar with Vanguard products, with their binoculars or telescopes, their daypacks and assorted bags, not even with their award-winning tripods. And although we're not always in tune with the latest in anything, not even birding gear and optics, we've been into birding in many ways for a long time now, we've come into contact with a lot of birders from most parts of the world, and we're familiar with the big name brands in optics and other birding gear. Or so we thought.
In other words, we couldn't help feeling somewhat skeptical about the material that was on its way to us from Vanguard, and began to wonder if we really wanted to get professionally involved with a brand that was so unfamiliar to us. Recommending products that we weren't convinced of would be compromising our professional standards, and that was not something we wanted to do. At the same time, how could we not give the products a fair opportunity, after Vanguard had sent them to us in such good faith?
Fortunately, we can say the dilemma has been solved, and in the best way possible. Firstly, Vanguard have acted with efficiency and eloquence in the way they have their products to us and, secondly, our inspection of the products themselves has dispelled the major withholdings or doubts we may have had. We like what we've seen, and very much!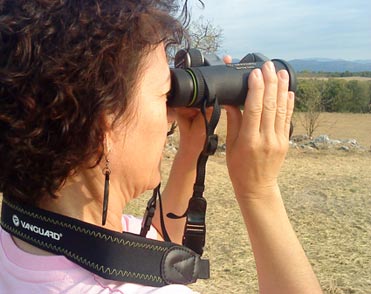 Another confession: As professional guides we use top of the range binoculars of brands that are familiar to all birders in Europe and probably around the world, and we see no reason to change. So I personally will not be leading birding tours with my new Vanguard binoculars as my main pair of binoculars. However, that is not the point.
We also organize birdwatching courses and field excursions, get client's companions who come along without binoculars, work with field collaborators, and it's also very useful to have a "back-up" pair in case something happens to the main pair of binoculars, and without having to suffer a great compromise in effectiveness and image quality. So the new binoculars should see plenty of action! And they're a lot more affordable than our main pair of binoculars, something that is very important to bear in mind when comparing their performance with models that could easily be 4 times or more their price.
So what about the review? Well, after trying out the Endeavour ED 10 x 42 in the field we looked through the Internet to try and find a glossary of terms to explain things more correctly, to come to terms with the terminology ourselves (e.g. lens coatings, eye relief, etc) and came across the review below which was already written, and in the most professional manner. There's no way we could get close to writing such a well-constructed review, and what's more we agree with virtually everything that's said here, so there's no compromising our standards or opinions just because Vanguard sent us some review material.
Here it is: Best Binoculars Reviews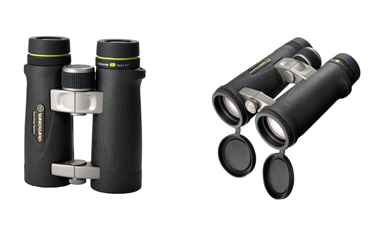 There's one major point we would add, and it's not a positive one. The author of the review is very impressed by the low light performance of these binoculars, but our location and time of year has led us to do our initial trials under very different conditions: very bright light typical of midsummer in our continental Mediterranean climate, where right now the temperature outside must be around 35ºC. With such trials we have noticed colour-fringing (chromatic aberration) – yellow or purple fringes to contrasting lines and edges especially when viewing objects (antennas, common swifts, tree branches) against a bright sky. How much of an issue can this be? We're not sure just yet so we'll have to test the binoculars under less intense lighting conditions to see how the trials compare.
Oh, and another thing we're not quite sure whether to test or not: Can we wash them under the tap?