Birds of the Middle East – Second Edition
Authors: Richard Porter and Simon Aspinall
Illustrated by John Gale, Mike Langman and Brian Small
Princeton Field Guides – Princeton University Press
Dimensions – 215 x 140mm
384pp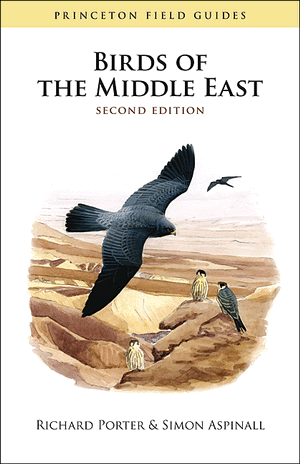 The ancestor of this field guide was first published in 1988 as "Birds of the Middle East and North Africa" (Hollom et al.). Later, in 1996, the first edition of "Birds of the Middle East" was published, reducing the area covered while increasing the information on each species described. Now the area covered spans from Western Turkey to Eastern Iran, and south to Yemen
There has been a clear progression with this new publication. "Birds of the Middle East" has successfully evolved into the format that most of us have come to expect from our field guides: quality colour plates depicting all of the species described and most of their distinctive plumages, reasonably detailed distribution maps and species descriptions all on the same page; all this opposite the plate illustrating the corresponding bird species. Over 130 additional species and subspecies have been incorporated, giving a total of over 850 species and subspecies depicted and described.
The order, taxonomy and nomenclature follows the OSME region list, ORL. Most of us who have lagged behind in the face of the taxonomic upheavals of the last two decades may take a little longer to locate some of the species we are looking for. A tip: Anyone looking for Caspian Snowcock, for example, should turn straight to the first plate rather than waste time flicking around the middle pages of the book.
This re-ordering required to accommodate taxonomic and structural changes means that some of the plates appear either cramped, with birds like the bustards being too scaled down in order to fit on the page, or under-exploited – the drawings on the crests and vultures pages, for example, could have been scaled up to fill the empty spaces. 
The back cover blurb asserts that the guide is "stunningly illustrated". Bearing in mind that today's birder has come to expect very high standards of graphic content I think that is overstretching things a bit, although the general standard of illustration is high. In my opinion some of the drawings are just a little too small for the "stun" effect to really sink in. 
One thing I often find lacking in this kind of guide is national bird recorder's addresses. Where does one send what one considers to be useful or interesting observations? Admittedly there is the Ornithological Society of the Middle East, but wouldn't it be appropriate to include national bird recording institutions or persons country by country, where they exist?
Quite rightly, the authors state the importance of recognising bird vocalizations, greatly aided by the interpretation of sonograms. Consequently, it could have been useful and even educational if they had included a sample or two for us to have a go at interpreting ourselves.
In terms of usability the book has the right size, weight and general feel to it although I have my doubts about the durability of the binding: would it survive the rough and tumble of a two-week birding trip?
Don't let these minor points fool you though, they are born of the need for a certain originality in the appraisal. This is one guide that is certainly worth it's weight in the suitcase when travelling to do some birding in the Middle East. I have no doubts that I'll be taking it to Turkey with me when I go.