Dear Steve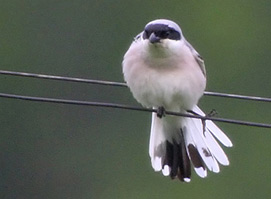 Photo by Eva Solanes
I have just finished reading your book (Flying over the Pyrenees
Standing on the Plains) and must let you know how much I enjoyed it. I
found it to be informative, interesting and very amusing in parts. I
must say I can empathize with you about the nappy incident as I had a
similar experience whilst on holiday on the beach in Puerto Pollensa
when our daughter got a touch (well a lot really) of Franco's
revenge and I had to bury the remains of her clothing on the beach, we
have never been back there and I have always felt hugely embarrassed and
ashamed as I know the Med is not tidal like the North Sea!
You have found yourself a really lovely part of the world to migrate to,
my husband and I enjoyed our day out with you immensely on our last visit to Spain and wish you every success with your book and look forward to reading the next one.
Regards
Kathleen
SCARBOROUGH UK
What nappy incident is Kathleen refering to? And how can nappies be related to Lesser Grey Shrikes? The answers are in "Flying over the Pyrenees, standing on the plains" .