It could be said that the village of Faió is twice hidden. Once when the construction of the Riba-Roja reservoir flooded the old village, which was relocated on higher ground nearby. And twice, even now in the 21st Century, when the solitude of the village is pierced more by the River Ebro than by the winding roads that lead to it.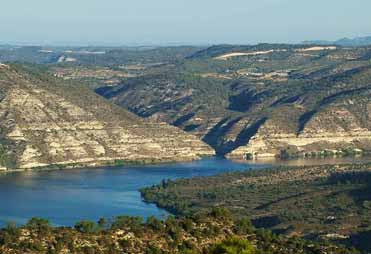 This is a part of northeast Spain that is ideal for those who like birding at their own pace. Stop now and then to admire the lonely hermitages, bee-eaters, rocky crags perhaps inhabited by the Blue Rock Thrush or a shy pair of Black Wheatears.
Stroll among the scented pinewoods listening to Bonelli's Warblers, Sardinian Warblers and Crested Tits, stand on top of a breezy hill to watch for the Short-toed Eagle, the Griffon Vulture, and maybe even a Golden Eagle. Then approach vertical riverside cliffs, domain of Peregrine Falcons, Alpine Swifts, Egyptian Vultures and more.
This was a site of intense fighting during the Spanish Civil War. Faió was an important piece of the aptly named Battle of the Ebro. It's hard to believe that such a tranquil setting could have had such a turbulent 20th Century.