Aigüestortes - Son and Jou Itinerary
Starting point: the C-13 between Escaló and la Guingeta d'Àneu.
Time: from 3 to 6 hours.
Apart from offering a variety of mountain birds this is also an excellent summer route for butterfly and plant lovers. Turn off towards the C-13 towards Espot and after some 6 kilometres turn right for Estaís and Jou. Follow this peaceful road on towards Jou, making frequent stops to admire the scenery and birds like Red-backed Shrike, Rock Bunting, Firecrest, Red-billed Chough, Crested Tit and Cirl Bunting.
Shortly after passing through Jou take the next left to ascend through pine forest and eventually reach the parking area for the Pla de la Font mountain refuge. Crossbill, Ring Ouzel and Citril Finch may all be seen in the vicinity of the refuge and a short walk offers spectacular views over the Aigüestortes National Park. Birds of prey that may be seen from here include Lammergeier, Golden Eagle and Peregrine Falcon. The pinewoods hold Capercaillie, Tengmalm's Owl and Black Woodpecker, although they are all difficult species to detect.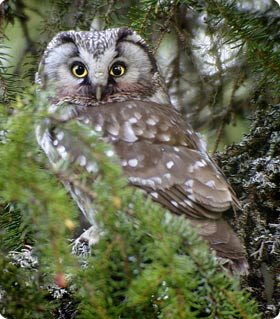 Return to the vehicle and follow the main track to the left as it winds past meadows and slopes to eventually reach the village of Son. From here it is a short descent down to the C-28 at València d'Àneu.