Why should I consider northeast Spain for my next bird tour?
Northeast Spain we interpret as Catalonia, Aragon and Navarra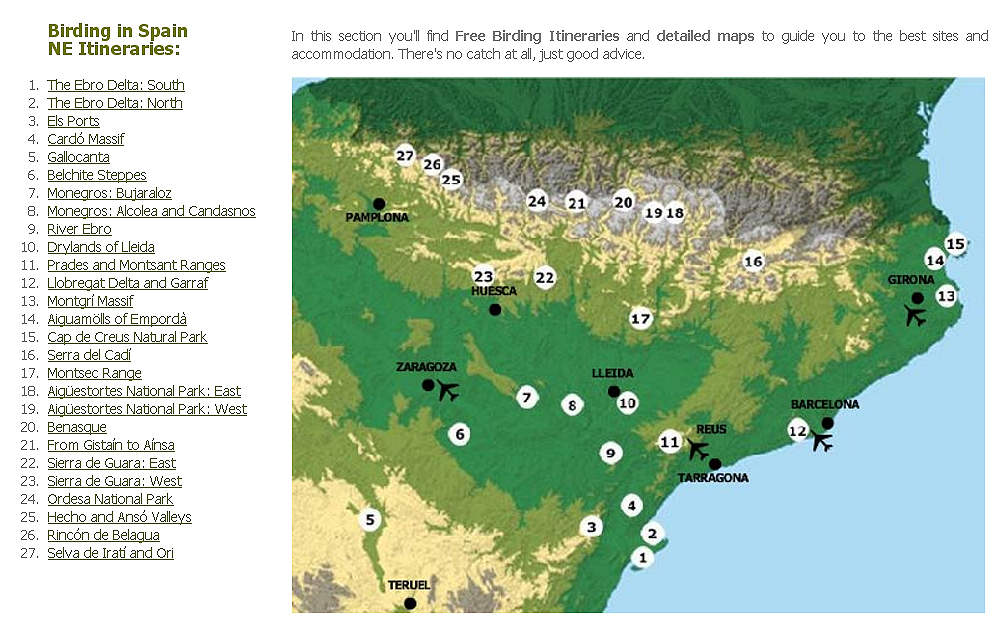 Catalonia has the coastline – Costa Brava, Costa Daurada, and the Ebro Delta. Follow the Ebro River inland past rocky mountains and gallery woodland and you get to the edge of the Ebro Valley drylands. Further north you have the Pre-Pyrenees, and the Pyrenees.
Aragón has the central Ebro Valley, the Pre-Pyrenees and Pyrenees. Navarra has the western part of the same.

But that's not all…
There's Mediterranean scrubland, inland wetlands and rivers, rock faces and escarpments.
Along the coast, in particular at the Ebro Delta the birds you can find are Greater Flamingo, Collared Pratincole, Purple Swamphen, Little Bittern, Squacco Heron, Savi's Warbler, Audouin's Gull, Slender-billed Gull, waders, terns, gulls, herons and wildfowl.
Inland gallery woodland has Wryneck, Lesser Spotted Woodpecker, Penduline Tit, Eurasian Hobby and Golden Oriole.
Search the Ebro Valley drylands and plains for a host of special birds, which include Great and Little Bustards, Black-bellied Sandgrouse and Pin-tailed Sandgrouse, Mediterranean Short-toed Lark, Calandra Lark and Dupont's Lark, Spectacled Warbler, Little Owl, European Roller, Great Spotted Cuckoo, Black-eared Wheatear and Iberian Grey Shrike. Rocky slopes nearby may be home to Black Wheatear, Blue Rock Thrush, Rock Sparrow and Rock Bunting.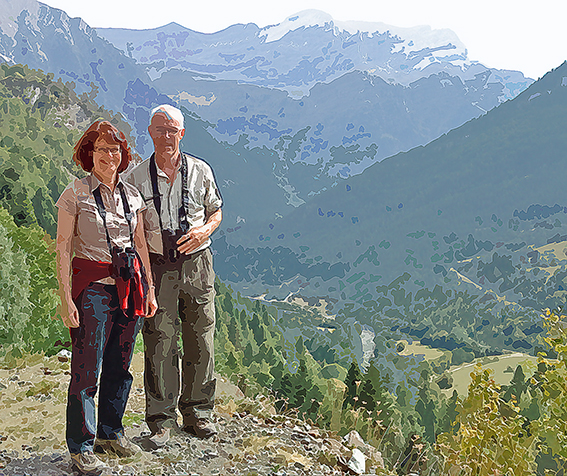 In the Pyrenees and Pre-Pyrenees you can find Bearded Vulture, Black Vulture, Bonelli's Eagle, Booted Eagle, Wallcreeper, Alpine Accentor, Alpine Chough, Citril Finch, White-backed Woodpecker, Middle Spotted Woodpecker, Black Woodpecker and Rufous-tailed Rock Thrush, among many others.
Then on the scrub and slopes look for Western Bonelli's Warbler, Western Subalpine Warbler, Western Orphean Warbler, Ortolan Bunting, European Bee-eater, Woodchat Shrike, Dartford Warbler, Egyptian Vulture, Eurasian Hoopoe.
For a closer look check out the detailed itineraries on our website: here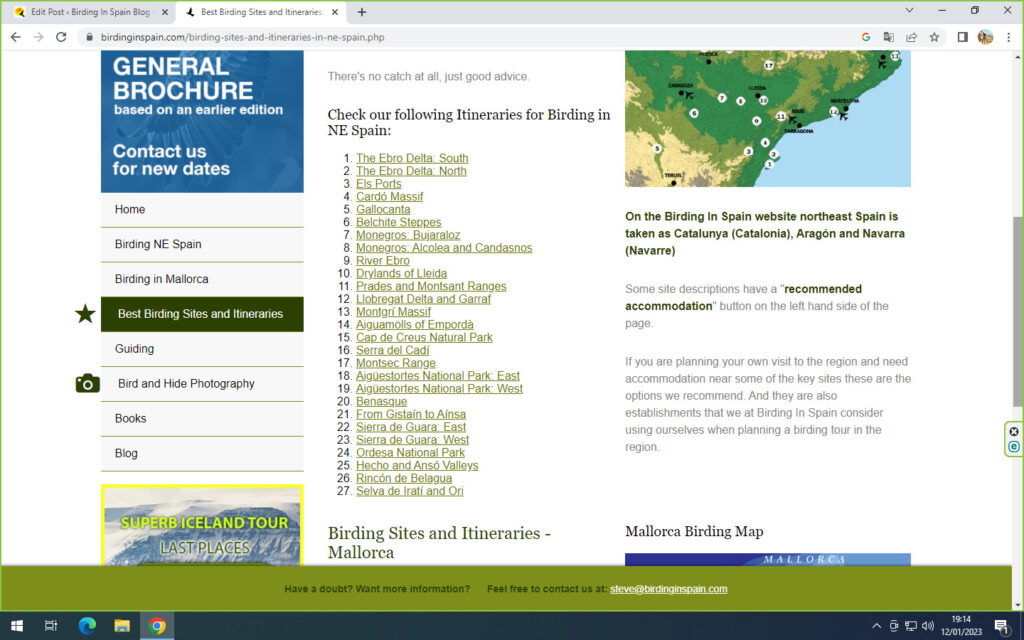 And if you're looking for something in addition to the birds then … Barcelona, Pamplona, the Costa Brava, adenture sports, cycling, wine, extra virgin olive oil, and so much more.