Barcelona's Llobregat Delta theatre kicked off the month of October with a gala performance. Lesser Whitethroat, Marsh Sandpiper and the Temminck's Stint twins were the special guest stars, with quite a select supporting cast including the likes of Spoonbill, Booted Eagle, Goshawk, Osprey and much more.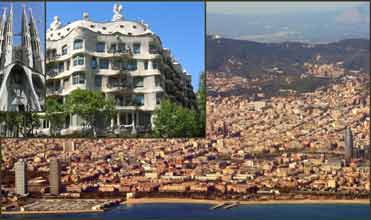 Meanwhile at Cal Tet it was work as usual for Penduline Tit, Audouin's Gull, Black-necked Grebe, Garganey and the regular crowd, although the Great Bittern was conspicuous by its absence. Rumours are that the Bittern is on a strict work to rule regime in protest at the noise from overflying aircraft. Nevertheless Common Waxbill and even Eider put in extra time just to keep birders ticking.
The Black Wheatear and Blue Rock Thrush will be upholding the tradition by hopping on their rocks at Garraf throughout the month. Mediterranean Shags will be on the coast too, although we regret to inform the public that after being requested by the authorities to "clean up" their act they will no longer regurgitate half-digested fish on request. After last winter's unexpected visit by the Wallcreeper hard-pressed Garraf theatre management have assured the birding public that the Wallcreeper will return, adding that "although it might not be this winter, it will certainly be before the return of Halley's Comet".
On the provincial scene the Bonelli's Eagle will be touring the massifs, with regular appearances at the Garraf Natural Park. Sharing the billing, although not the lights, will be the regal Eagle Owl. The staff at the Garraf Natural Park have managed to negotiate a number of open door rehearsals in preparation for Eagle Owl duetting which, weather permitting, will start in earnest next month. Lastly, Honey Buzzards will be passing through until the end of the month, but according to the Garraf Natural Park hygiene technicians "better get 'ere quick before they take off for good".
For more details of birding theatres and open air shows around Barcelona see the Llobregat Delta and Garraf itinerary
This page was brought to you in collaboration with Rural Verd  and Ca l'Helena .
The places to stay when birding around Barcelona.