Does anybody know where the photo below was taken?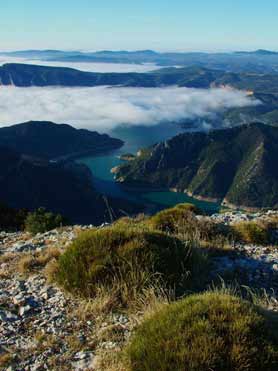 I suspect not, so I'll provide some clues:
It's part of a natural birding hotspot with more than 120 species of breeding bird in a 25 kilometre radius.
The highest peak reaches up to 1668 metres. It is not in the Pyrenees.
Within the hotspot there are drylands with breeding Lesser Kestrels, Little Bustards, Black-bellied Sandgrouse, etc.
There are also birds of wetland areas such as Purple Heron, Little Bittern, Penduline Tit…
In the mountains there are Bonelli's Eagles, Lammergeiers and Griffon Vultures.
It's somewhere in Catalonia.
Any guesses? Why not send me an e-mail and see if you're right?