Irene from Paris got in touch after the summer and explained that she was set on coming to film vultures. Vultures feeding seen from the hide? No. Vultures perched on the rocks? No. Irene was explicit: she wanted to film vultures circling in thermals.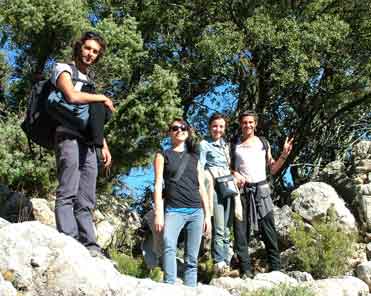 Irene and friends Dorothy, Jean and Gilles
It became clear to me that her best option would be Mas de Bunyol. The patron of Mas de Bunyol, Jose Ramón Moragrega has been feeding the vultures of els Ports on his land near Valderroures every day for more than 20 years now. In the eyes of the public he's on the way to becoming a local legend; for the hundreds of vultures that turn up every morning waiting for him to serve their food he already is.  
From the comfort of the newly-completed vulture observatory, with benches and all-round vision, vulture displays and the attentions of Loly, José Ramón's partner, one can watch as he enters the compound with a wheelbarrow loaded with dead rabbits. The vultures sail down from the nearby trees, the bravest of them actually going up to José Ramón's wheelbarrow to try and grab a rabbit for themselves even before he can unload them!
Everything unfolds as usual, although José Ramón is a little upset that today we have only seen 150 Griffon Vultures, instead of the more usual four or five hundred. Only! The vultures feed, and then rest, some in the trees, some in the compound itself next to a pool where they often bathe. Irene, however, is far from relaxed. When will the vultures start circling Steve? I consult with Loly, and she tells us not to worry – the vultures are just hanging around waiting for the first thermals to form.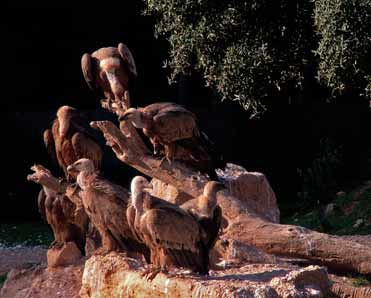 Griffon vultures just hanging out after a feed at Mas de Bunyol. But Irene was looking for something more…
They make us wait in a nervous state before they eventually comply by finding a thermal that brings some 70 of them circling closer and closer until they are just over our heads! Phew! Mission accomplished, and that after spending a lovely night dining on Loly's roast chicken, drinking local wine and sleeping in one of Mas de Bunyol's tastefully furbished rooms.
José Ramón told us about the Eagle Owls and Peregrines that inhabit the nearby rock faces, and after the vultures had all but left two adult Bonelli's Eagles sailed leisurely over the observatory! However, Irene and her crew were already thinking about a fish lunch on the Mediterranean coast…
If you're curious about the title of this article take a look at Irene's website.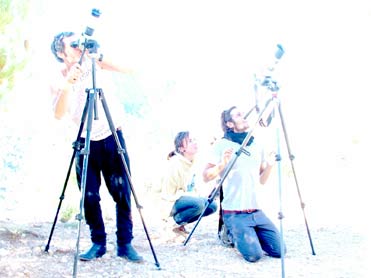 White light?