Navarra has no coast, so let's not talk about birds on the steps to the beach, but rather birds from the steppes to the beech.
Firstly, the Bardenas Reales Natural Park.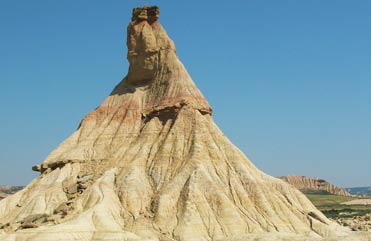 Check out the circuit around the firing range, preferably when the fighter jets are not actually firing at anything, and look for some of these birds:
Dupont's Lark, Calandra Lark, Lesser Short-toed Lark, Short-toed Lark, Black Wheatear, Black-eared Wheatear, Spectacled Warbler, Egyptian Vulture, Pin-tailed Sandgrouse
And some whacky scenery!
From here your acute birding sense should point you in the direction of the Pyrenees. Unless you have a train to catch, though, it wouldn't be a bad idea to stop somewhere along the way. There are lots of places to choose from, but it would be a thick-skinned birder who could resist the lure of the foces of e.g. Arbayún and Lumbier.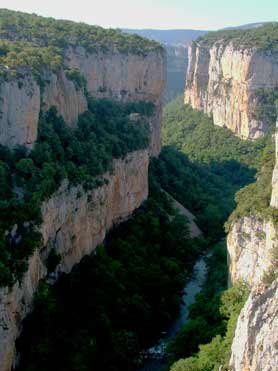 Birds to be seen here include superb views of Griffon Vultures, Egyptian Vulture, Booted Eagle, Peregrine Falcon, Blue Rock Thrush, Bee-eater, Wallcreeper in the winter, and a lot of those warblers (including Iberian Chiffchaff) and buntings that are typical of a Mediterranean type landscape.
Continue northwards.
"So these are the Pyrenees? I thought they were higher."
They are in Aragón and Catalunya, but how high do you need them to be? Navarra has the westernmost 2,000m peak, and the more Atlantic influence has given rise to some of the best deciduous forests in the Pyrenees. That means Woodpeckers: Black Woodpecker, Lesser Spotted Woodpecker and the prized White-backed Woodpecker. If you want to see the latter in Spain then you had better come to Navarra.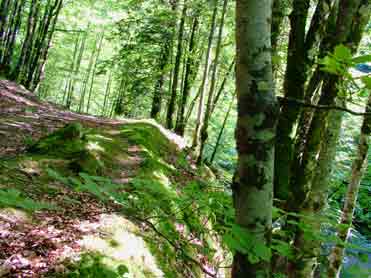 If yours is not a single-track mind you could always spend a little time contemplating the Lammergeier, Alpine Chough, Dipper, Water Pipit and other great birds too.
Right, the birds are great, and the landscapes too. But what about the logistics? Well, to find a lovely rural hotel or guesthouse, at an affordable price and close to the birds you really should follow this link to CR Listen
Check out the Irati itinerary on the BirdingInSpain.com website, or go east young man, and check out the Pyrenees at the Rincón de Belagua.