In May we discovered a Hoopoe nest site, just at the right time for us to set up a hide for our bird photographer guests.
A photo of one of "our" Hoopoes by Eric McCabe
Lovely, striking birds, which performed wonderfully for the photographers, perching on a branch with fat grubs in their bills before entering a hole in a stone wall where their nest was located. The perch was also much in demand by a local Corn Bunting and a singing Thekla Lark.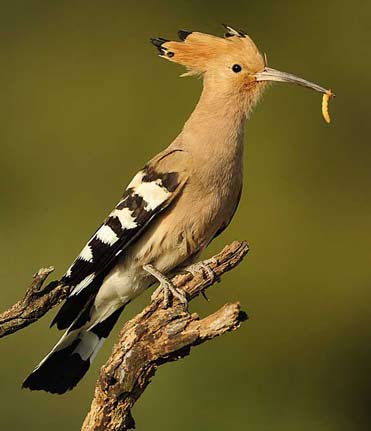 Hoopoe from the Hoopoe hide. Photo by Jordi Bas. 
After a few weeks on a recce visit it seemed to me that the Hoopoes had left the nest. But surely the young ones would be somewhere in the vicinity for a while yet? I had to check that idea, so I decided to get hold of some worms to tempt them back to the hide.

A day or so later I tried on the offchance at our local Decathlon store. I was amazed! In the fishing section they had a fridge with several types of worms or maggots that looked ideal for the purpose! Happy with my purchase I duly transfered them to our own fridge and waited for the right moment to act…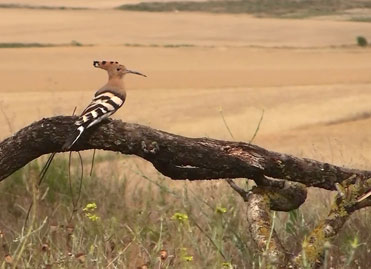 Hoopoe, but from the wrong hide (the Montagu's Harrier hide). 
A couple of days later I was back at the Hoopoe scene, eager to see how effective the "worm ploy" would be. I placed the two classes of worms in strategic, visible places and waited. And waited…nothing. The Hoopoes had definitely moved on. And I still had two half-full tubs of worms. Some of them were left out for the Rollers, the rest went back into the family fridge.
And what did I see just as I was leaving the drylands? A family group of no fewer than 6 Hoopoes flying together over a small patch of pine trees. OUR Hoopoes, for sure, ungrateful lot!
I have to remember to take the rest of the worms out of the fridge and offer them to a local bird or two – there's a shriek every time Florinda opens one of the pots thinking it contains paté!