Growing up with a Birding Dad 
by Alex West*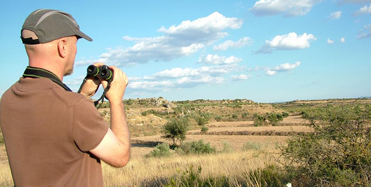 Bringing a child to this world and educating him doesn't seem like an easy task. Having a birding enthusiast as a father isn't either, especially when you are a kid, not very interested in birds, and who just wants to play football and mess around. Sometimes you won't see your dad for weeks because he is leading a birding trip to Scotland, and sometimes he won't move from his desk at home because he is contacting customers around the globe.
I remember when I was scared of grasshoppers, the idea of them jumping and getting stuck on my face terrified me. One day, on an excursion with my dad and my brother to the grasslands of Lleida, a giant grasshopper sneaked through the window of the car and landed on my side. I instantly started panicking and screaming, and jumped to the other side of the car next to my brother, fearful of what that devil's creature would do to me. My father slammed on the breaks, unaware of what was happening, while my brother and I were hugging, squeezed into one corner of the car. He came out and grabbed the grasshopper with one hand, and showing it to me told me – See? It doesn't do anything. I know you don't like them but look at its wings when they fly. Moments after the grasshopper jumped and I saw a beautiful blue colour with black dots going away. How could such an ugly insect have those amazing colours on it? Since then I lost all my fear of grasshoppers and I started noticing all the different tonalities of their wings that I missed before just because I didn't like them. That day my father taught me a lesson, everything has its beauty, it may be hidden or you may not see it, but that doesn't mean it's not there.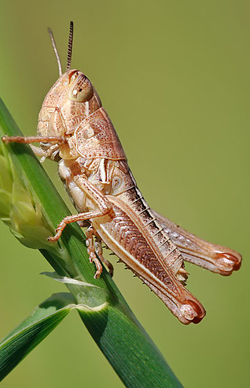 Grasshopper! Image by Fir0002/Flagstaffotos
I started listening more to my father, I became more interested in birds and I realized he knew facts that no one else did, I learned why Lammergeiers bathe in pigments and how they get their food, by dropping bones onto the rocks from hundreds of feet. I fell in love with the colourful Bee-eater and I was amazed by the sound the plumage of vultures makes when they pass metres away from you.
And then I realized how cool it was to have a birding father, he would take me to secret places with breathtaking views, he would teach me about ecosystems and the balance of nature, drive me out of the city and its monotony to breathe fresh air. Thanks to him I even stood face to face with a fox and shared laughter about the strange noises they make. He showed me to love nature, and that was his way of loving me.
Having a birding father is not easy but I could not wish for anything else.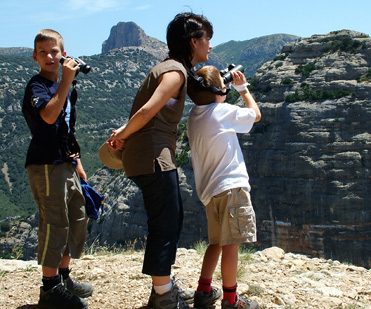 * This is Alex's first post on the Birding In Spain blog and we think he's done a great job. I'm sure he'd welcome any appreciative comment!