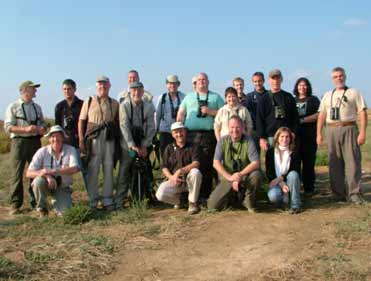 Above is a photo of the participants of the birding famtrip to Catalonia organized by the Catalan Tourist Board. Participants included bird tour operators and the birding press from the UK and Finland. I'm in there too somewhere.
Why are they smiling? I've interpreted their smiles in my own words:
We've just seen a flock of 18 Dotterel on the drylands of Lleida.
I have a feeling that we're going to come across a Lammergeier before we leave.
What superb views of Bonelli's Eagles we had at Mont…Mont…Montsec!
I've just found out that ther are some very good rural hotels around here – much better than the ones I've been using until now.
We thrashed them at table football!
It's my birthday.
That picnic site is just right for us: tables, drinking water, impressive scenery and even a Lammergeier or two!
I'm so glad the fog lifted so that we could enjoy the splendid scenery.
That was nice wine we had last night, I wonder what we'll get this evening.
These Catalans are a friendly and professional bunch.
Marbled Duck and Pectoral Sandpiper in the Ebro Delta in addition to all the usual stuff, and we even won the mini bird race!
Thanks to all those who participated in this year's famtrip, and to the Catalonia tourism team and Keith Betton for making it work. Happy Birding!