There's nothing like a bit of self-promotion for inviting the critics to have their say. Especially those who have never had to lift a finger for themselves.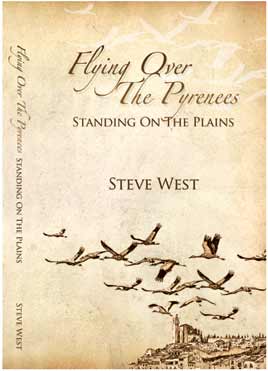 Well, all you indolent nit-pickers, now's your chance, as I'm going to mention two independent reviews that treat my last book "Flying over the Pyrenees, standing on the plains" in a most favourable light.
First of all is the Birder's Library:
"…along the way we get glimpses into the author's past, insight into our shared pastime, and information about Spanish birds, history, and culture."
"…much of what he shares will resonate with all birders, no matter how old they are, or where they are from."
To summarise all the good things that Grant McCreary says about "Flying over the Pyrenees…"
"Simply put, this book was a delight."
"This is highly recommended to anyone who can get their hands on a copy."
The original article can be seen at this link.
Colin Wright from Subbuteo Natural History Books reviewed the book in August and liked it so much that "Flying over the Pyrenees, standing on the plains" was made their "book of the month" in September 2007. Here is how Colin concludes his appraisal:
"This is an ideal book for the bedside, a wet day on holiday or whilst travelling, especially if you are heading for Spain. …Steve's infectious enthusiasm for the birds will draw you towards this sometimes overlooked part of Spain."
If you want to see Colin Wright's full review follow this link.
Details about the book in question can be seen in the books section of the Birdinginspain.com website, or at it's own special website http://www.flyingoverthepyrenees.info
Get it in time for Christmas!