(Part 2)
We traveled west to the Belchite area.  The land was clearly more arid and olive tree groves gave way to grasslands and other low vegetation.  We sought out the El Planerón refuge outside of Belchite.  Using directions from the website, we traveled the refuge roads for short distances and found Booted Eagles.  At the trail site, in good lark habitat, we walked around a bit and heard at least 2 Dupont's Larks calling and later picked up one.  Two flocks of Black-bellied Sandgrouse flew nearby; we tallied 20.  In addition, the arid habitat produced Greater and Lesser Short-toed, Crested and Thekla Larks. Along the main road we found a pair of Lesser Kestrels. We also found a Southern Gray Shrike near the Lesser Kestrel area. After lunch we visited the ruins of old Belchite – the original town that was destroyed by Franco.  It is a must see location.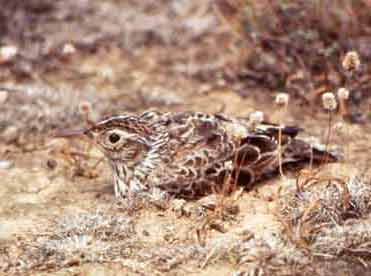 Dupont's Lark, Belchite, Spain
Before crossing the Ebro River near Quinto, we stopped at a riparian area next to planted fields and found a Hobby, a few Common Buzzards, Purple Heron, Kingfishers and various passerines, including Hoopoe and Corn Bunting.  At Lleida, we headed north to our destination where we stayed at Montsonís, near the Montsec Range.  This was a wonderful, very picturesque rural valley with a small castle. Breakfast the next morning at our accommodation was fantastic!  Here we got lucky and encountered Steve West (who was meeting a client) and he kindly gave us a Montsec Birding Trail map and a few pointers. Thanks Steve!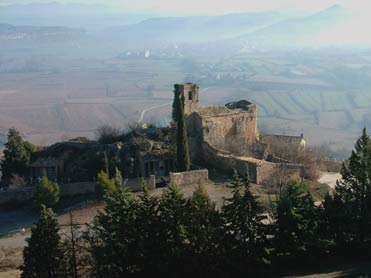 Montsonís near the Montsec Range
The next morning we followed Lleida birding routes near Balaguer followed by a trip to the Alfés drylands, both suggested by the web site, and we were not disappointed. We quickly found a flock of 55 Stone Curlews and near by were 20 Red-legged Partridges. Another location yielded up two Honey Buzzards and two beautiful Black-winged Kites. Also noted were our first Red Kite, a few Bee-eaters hawking insects over the forest, Short-toed Eagle (the latter near Aspa), more Green Woodpeckers, our only Tawny Pipit for the trip, our only Black Wheatear, Reed Warbler, Lesser Gray Shrike (ID by plumage and call note), and Woodchat Shrike.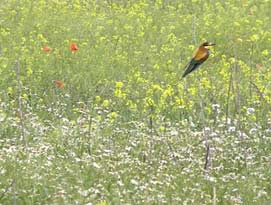 Bee-eater
We headed north to the Pyrenees.  Our next stop was a small hotel in a small village known as Arseguel which is about 10 km east of La Seu d'Urgell.  Upon arrival, we saw our first Cirl and Rock Buntings, Citril Finch and Orphean Warbler and heard a calling juvenile Scops Owl at night after dinner. The food at our hotel was amazing – with yet more excellent vino tinto.  We stayed two nights.
After visiting a few locations, we headed up to the Coll de Pal outside of Baga hoping for a few alpine species late in the afternoon. We were not disappointed!  The alpine meadows near the rock wall produced an Alpine Accentor, and two Lammergeiers!  The latter are amazing birds with huge wingspans – over 8 feet – are quite long – almost 4 feet – and have foot-long tails.  Beautiful!
Our last day was short for birding as we needed to depart for the Barcelona airport. We packed our bags and loaded the car and we were off. The most noteworthy thing was the slow traffic through Barcelona.
This trip was better than originally envisioned, although several common species were never found.  This was mainly due to a time deficit – we did not have time to visit several great sites for birds like Blue Rock Thrush or Bonelli's Eagle or Slender-billed Gull.  But, since we would like to return, I can only say that next time we will get them!