The first edition of the Anuari d'Ornitologia de Catalunya (Catalan Bird Report) was published in 1998, but covered observations for the year 1996. At the time it was edited by the Grup Català d'Anellament (Catalan Ringing Group), which later changed its name to the present-day Institut Català d'Ornitologia (ICO – Catalan Institute of Ornithology).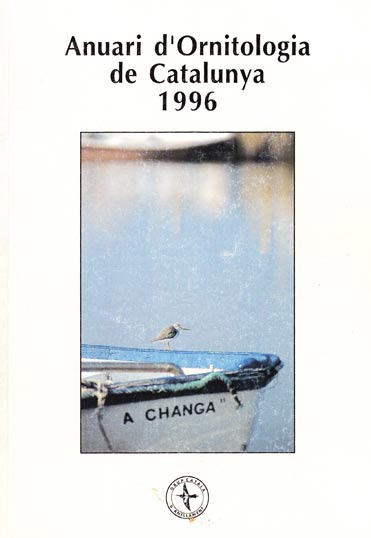 The report compiled the observations of no fewer than 465 contributors, quite a remarkable landmark and a proud moment for ringing and birding in Catalonia. This was already a far call from the 129 observers involved in the making of the Breeding Bird Atlas of Catalonia and Andorra 1975-1983.
The Anuari compiled a total of more than 5,000 observations of rare and scarce birds, censuses, population estimates, migration dates, changes in distribution and the opportunity to publish observations from many areas around the country that would otherwise have gone unnoticed.
And 1996 was quite a good year as far as rarities are concerned: the Ebro Delta alone took account of Spain's second Rough-Legged Buzzard, the country's first ever overwintering Terek Sandpiper, Catalonia's first Black-headed Bunting, Least Sandpiper and Greater Sandplover (together!), Citrine Wagtail, Lesser Yellowlegs….
Although Lleida is not in the same league, it certainly had its say: 2 White-headed Ducks that arrived in 1994 stayed until late winter, up to 1,000,000 starlings were observed at their roost at Utxesa (the site has never seen such numbers since), a winter Grey Phalarope, 21 of the 30 pairs of Montagu's Harrier breeding in Catalonia were on the Lleida steppes, and a Ruddy Duck turned up at Utxesa at the end of the year.
With this first edition the figure of coordinador comarcal was also established, a position rather like a County Recorder, and a first compiler and filter of interesting records for his/her sphere of influence.
The report also included a summary of the ornithological year in English and in Catalan, as well as an annotated systematic list, with the most interesting or relevant observations of each species ordered by "comarca". A complete bibliography could not be left out of course, and interest was maintained right to the end by the inclusion of detailed articles on identification problems (for example Yellow-legged Gulls and tristis Chiffchaff).
An excellent first edition, creating interest and cohesion and marking the way for additions and improvements in the following years. Long life!