Looking for Pin-tailed Sandgrouse at Alfés, the only remaining breeding site for the species in Catalonia, has almost become a full-time job in the last couple of years.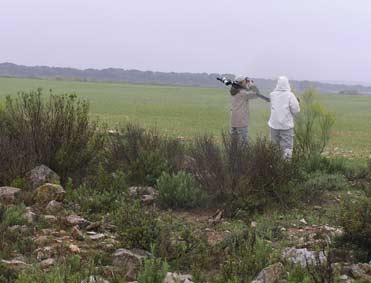 Not too long ago you went to Alfés drylands and you saw Pin-tailed Sandgrouse, it was as easy as that. In fact my birding notebooks from a few years back and beyond reflect that fact, as sometimes I didn't even write down "Pin-tailed Sandgrouse", taking it for granted that that was one species that the birder never missed, certainly not the birder who knew his way round.
Now it seems that the Pin-tailed Sandgrouse is a forerunner for the next bird to go extinct in Catalonia.
After the demise of the Dupont's Lark just a few years ago.
Although it could be pipped at the post by either the Lesser Grey Shrike (will the species return next year?), or the Black-bellied Sandgrouse (the latter has been hanging on for years now despite the odds stacked against it).
And they want to promote birding tourism to the area.
"Can't have birders without the key birds" I keep telling them.  They look at me as if I was speaking Japanese.