Len and Lucy's review of their time with Birding In Spain
Len and Lucy came to us in March 2022, after booking in late 2019, and then having to wait for more than two years because of the pandemic. Well, they made it from North Carolina and our 12 days together was a very pleasant and productive tour of some of the possibilities of Birding In Spain.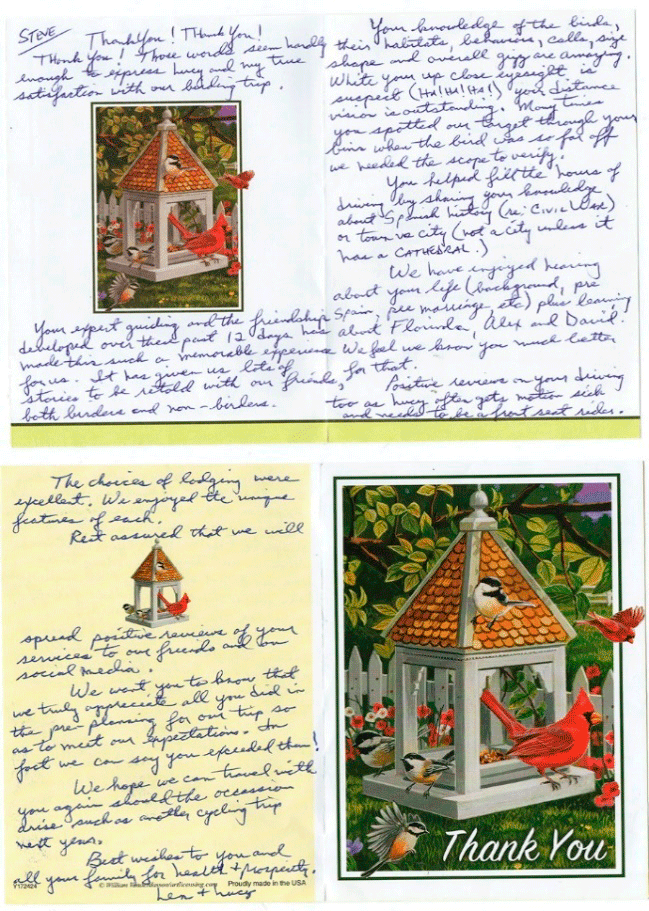 This is what their hand-written review reads:
Thank you! Thank you! Thank you! Those words seem hardly enough to express Lucy and my true satisfaction with our birding trip.
Your expert guiding and the friendship developed over the past 12 days has made this such a memorable experience for us. It has given us lots of stories to be retold with our friends, both birders and non-birders.
Your knowledge of the birds, their habitats, behaviour, calls, size, shape and overall gizz are amazing. While your up close eyesight is suspect (Ha!Ha!Ha!) your distance vision is outstanding. Many times you spotted our target through your bins when the bird was so far off we needed the scope to verify.
You helped fill the hours of driving by your knowledge about Spanish history (eg Civil War) or town vs city (it's not a city unless it has a cathedral).
We have enjoyed hearing about your life (background, pre-Spain, pre-marriage, etc) plus learning about Florinda, Alex and David. We feel we know you much better for that.
Positive review on your driving too as Lucy often gets motion sick and needs to be a front seat rider.
The choices of lodgings were excellent. We enjoyed the unique features of each.
Rest assured that we will spread positive reviews of your services to our friends and on social media.
We want you to know that we truly appreciate all you did in the pre-planning of our trip so as to meet our expectations. In fact we can say you exceeded them!
We hope we can travel with you again should the occasion arise, such as another cycling trip next year.
Best wishes to you and all your family for health and prosperity.
Len and Lucy.
What can we say? People like Len and Lucy are what makes our job a pleasure.