Did you know?
The Balearic Shearwater Puffinus mauretanicus is a species endemic to the Balearic Islands?
The Balearic Shearwater was regularly captured for human consumption until the late 1970's? And that an estimated 2,400 to 2,700 Balearic Shearwaters were caught annually on Formentera alone? 
Predation by cats or genets is one of the main problems faced by the species, and is the reason why this shearwater disappeared from the interior of Cabrera?
There are only an estimated 2,000 pairs of Balearic Shearwater in the world, and that at the current rate of regression the species is likely to become extinct in about 40 years?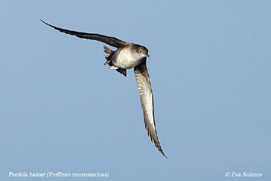 The photo of this Balearic Shearwater is by my friend Eva Solanes. To see more follow this link to Eva's photo website.
After breeding on the Balearic Islands the Balearic Shearwater spends the summer in the Bay of Biscay? 
Much of the world population of this bird regularly winters along the coast of Catalonia?  
More information on the Balearic Shearwater, especially about where and when to see it in northeast Spain, can be seen on page 37 of "Where the birds are in northeast Spain".
These itineraries from the BirdingInSpain.com main site offer good chances of observing Balearic Shearwater at the right time of the year:
Ebro Delta South 
And get everything right if planning a visit to the region – check out the recommended accommodation in the area where you plan to be. It's recommended because it's the best for birders, birdwatchers, nature lovers, families….