After the first two mornings of birding with my 2020 Hotspot in mind, I've already mulled over some thoughts and insights it has provided me with, essentially because of the birds I have seen. On the two days birding I have seen 71 species, nothing remarkable, and no rarities or birds to bowl one over.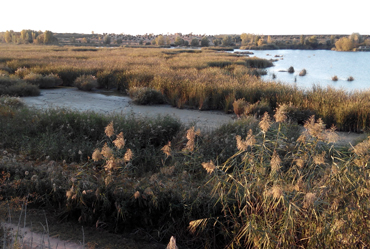 However, the two morning birding list reveals some highlights and, with them, some insights. For example, Black Kite, Lesser Spotted Woodpecker, Bluethroat and Purple Swamphen.
The Black Kite is interesting because up until about 10 years ago there were no wintering records of this species near Lleida. My first knowledge of this happening was when a photographer client of ours visited the site in January on his own and later told me he had photographed a Black Kite, showing me the photo to prove it. Since then the records have increased, and this year I believe one observer has reported 6 Black Kites at the city dump last December.
Lesser Spotted Woodpecker – I spent many years looking for and hoping this species would turn up near my home, and now that it has it seems to be taking the area by storm. I've heard it at 5 sites near Lleida in the last year, and at one other in the Sierra de Guara, and at Flix, and there must be more. The first records of this species in the area came to me personally about 12 years ago.
Bluethroat and Purple Swamphen. I've put these two together because of the place where they are usually seen these days, at the Estany (lake) d'Ivars, to the east of Lleida. The Estany was drained in the 1950s but then recreated around the year 2005. Before then you would have been very lucky to see a Bluethroat (a few records in marshy habitats, river edges, ricefields) maybe once or twice a year, and a Purple Swamphen once a lifetime. Now you go to the Estany in the winter and expect to see them.
Changes. If you stay around for long enough and keep watching, you'll see a lot of them.
Photo credits: –
(i) Lesser Spotted Woodpecker photo adapted from the Crossley ID guide Britain and Ireland, (ii) Purple Swamphen photo by Geoff Sharp, (iii) Bluethroat by Tom