Northeast Spain, September 6-19, 2008 (Edited for brevity version; photos added by BirdingInSpain.com)
Here is the birding summary of our (Cheryl and Kurt Gaskill and Molly and Peter Ross) September trip to Spain, centered about 200 km on Barcelona.
In total, we birded for an estimated 51.5 hours in about 8 days.  Notes indicate 167 species and over 8800 individuals were observed and Kurt tallied about 45 lifers and Peter 68.
References we used were the excellent book by Steve West, "Where the Birds are in Northeast Spain". We found Palmer and Fidel's "A Birdwatching Guide to Eastern Spain," Arlequin Press, Chelmsford, 2001 of some value.  Of great value was the website "Birding in Spain," (http://www.birdinginspain.com/ mainly by Steve West) which was consulted extensively before the trip. Overnight accommodations at the key sites of Barcelona, Ebro Delta, Alcaniz, Montsonis, Arseguel (west of La Seu d'Urgell in the Pyrenees), and Siurana were secured before the trip began.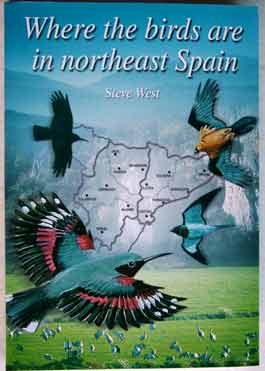 We drove down to the Ebro Delta late Thursday Sept 11 and the next day we began birding.  Despite the strong NW winds this day and the next, it was one of the best birding sites for the trip!  The majority (ca. 80%) of the Ebro Delta is cultivated for rice, but it still has many wetlands plus beach/shore areas; it is a well-known breeding area for Andouin's Gull.
We began birding and quickly saw many shorebirds such as Black-tailed Godwits and Curlew Sandpipers; there were lots of dark-winged terns plus the occasional Zitting Cisticola.  All 3 of the dark-winged terns were spotted that first morning:  Black, White-winged and Whiskered Terns.  We birded throughout the day on the north side of the Ebro River, ending at a large hide near our hotel that overlooked a brackish pond filled with waterfowl and coots (including the Red-knobbed Coot).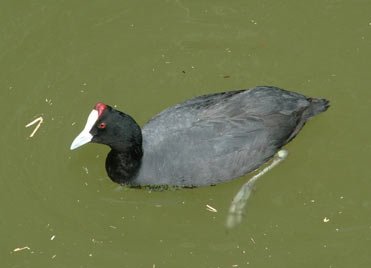 Crested Coot (or Red-knobbed Coot if you prefer)
The next morning we concentrated on the south side of the Ebro River.  The best location was the Riet Vell wetland which consisted of about 4 man-made cells, each about 2 acres, with various levels of water.  We tallied 18 species of shorebird at Riet Vell and the total included the only Temminck's Stint of the trip.
Overall, the Ebro Delta added 82 trip species to our list, sometimes in impressive numbers, and the species found only here were: Great Crested Grebe, European Shag, Black-crowned Night Heron, Squacco Heron, Great (White) Egret, Glossy Ibis (ca. 365), Greater Flamingo (ca. 260), Common Shelduck, Gadwall, Northern Pintail, Red-crested Pochard, Common Pochard, Merlin, Common Moorhen, Purple Swamphen, Eurasian Coot (ca. 500), Red-knobbed (or Crested) Coot, Black-winged Stilt, Pied Avocet, Common Ringed Plover, Kentish Plover, Sanderling, Little Stint, Temminck's Stint, Curlew Sandpiper, Black-tailed Godwit, Spotted Redshank, Marsh Sandpiper, Green Sandpiper, Mediterranean Gull (a beautiful gull), Andouin's Gull (another beautiful gull), Gull-billed, Caspian, Sandwich, Common, Whiskered, Black and White-winged Terns, Lesser Short-toed Lark, Northern Wheatear, Savi's Warbler, Sedge Warbler, and Eurasian Tree Sparrow.  In addition, the Little Egret numbers (ca. 220) were wonderful.

Purple Gallinule and Red-crested Pochard
Part 2 soon…