Extreme weather II
April 2013 ended with 6 consecutive days of rain, at times very heavy, at what was the height of our plains in spring photography season. This was very annoying to some of our guest photographers, having to face up to the challenge of getting photos of plains birds from our hides without getting soaked or coated in mud. Sometimes the challenge was just getting to the hides!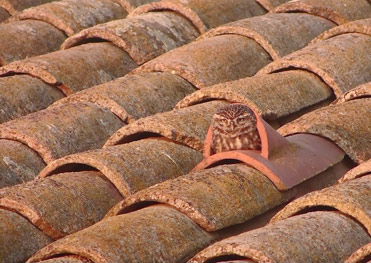 Little Owls had to make do with what they could find
This was irksome, but worst still for us was the bird side of things: Small colonies of Bee-eaters were excavating nests one day and just "gone" the next, perhaps to reappear when the rain stopped, or perhaps not; Little Owls and Lesser Kestrels seemed to be relying on millipedes to tide them through hard times in the complete absence of grasshoppers; male Little Bustards occasionally threw their heads back in a half-hearted display but downright refused to do anything that could be construed as a "jump".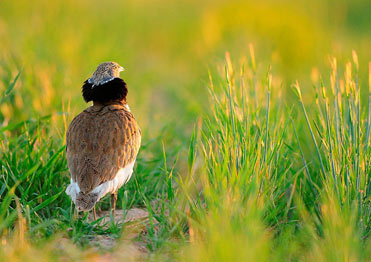 Little Bustards were not convinced about the advantages of jumping. Photo by Jordi Bas.
Then came the summer, and things returned to normal, or a close resemblance of it. Rollers started inspecting the nestboxes we had put up for them; Hobbies were using regular perches in the vicinity of their nest; and one day I located a Green Woodpecker's nest with several tiny chicks in the hollow trunk of an old almond tree.
Rollers were ousted from nestboxes by the violent storms. Photo by Jordi Bas.
In June a hailstorm hit the plains area. Only 3 villages were mentioned in the local news, but those 3 places mark the area of the drylands where these birds were nesting. That week I went back to the Green Woodpecker's nest and checked: there'd be no chicks raised from that particular brood, as the nest was flooded. Maybe the adults could try again, but what about Little Bustards and Montagu's Harriers nesting unprotected in the open fields? How would they have fared?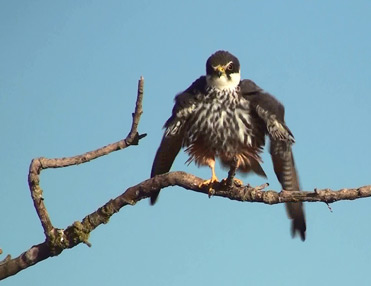 One of the nesting Hobbies was killed by the hail.
But worst was yet to come. About two weeks later another hailstorm hit almost exactly the same area. And this time round it was really virulent. The day after scenario couldn't be more disheartening: one of the nesting Hobby pair was lying dead at the foot of the nesting tree; the lid of one of the Roller nestboxes had been blown off and the contents completely cleaned out; Montagu's Harriers were nowhere to be seen.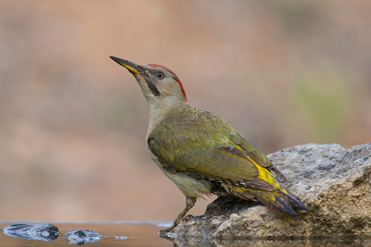 A Green Woodpecker's nest was "flooded out". Photo by Wim de Groot.
Somebody should be quoted here. Perhaps Mark Twain  "Climate is what we expect, weather is what we get", or perhaps Frank Lane "If you want to see the sunshine, you have to weather the storm".
Popularity: 3%