include('images/headers/new-headers.php'); ?>
The Great Trip: combine two of our star products: Little Bustard and Lammergeier- Birdinginspain.com
Description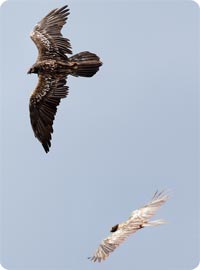 Trip duration: 6 days / 7 nights.
A bird photography trip for dedicated bird photographers, targeting displaying Little Bustards and carrion-feeders, above all the Lammergeier and the Griffon Vulture.
In Catalonia the Little Bustard breeds in relatively high densities in the little known steppes, or drylands, in the Terres de Lleida. In the months of April and May these steppes burst with new life – flowers, insects and the curious jumping display of the Little Bustard Tetrax tetrax.
The spectacular Lammergeier Gypaetus barbatus is still the rarest vulture in Europe. However, its numbers are slowly but steadily increasing in the Pyrenees and pre-Pyrenees of Catalonia. Fresh carrion is usually dispensed with by squabbling Griffon Vultures, with the more discerning Lammergeier arriving later to carry off its favourite bones.  
This trip offers a superb opportunity for bird photographers to photograph Little Bustard, Lammergeier, Griffon Vulture and other species.
Bird Species to photograph

Little Bustard – four mornings
Carrion-feeders from the hide, Griffon Vulture, Lammergeier – two days
Complementary species:
Great Spotted Cuckoo (Clamator glandarius), Red-legged Partridge (Alectoris rufa), Bee-eater (Merops apiaster), Little Owl (Athene noctua), Black Vulture (Aegypus monachus), kites (Milvus sp.)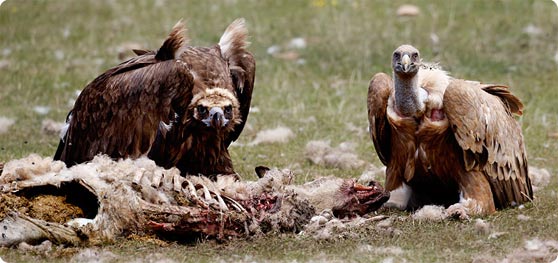 Photo by Jan-Michael Breider
Prices
Price: Consult for prices for individuals, small groups and tour operators.

What does the price include?
Transport, guiding services, all meals, use of specially researched and located hides, and accommodation in a twin en-suite room. Arrivals at Reus or Barcelona airports can be met for an additional supplement.
Spring program - 6 days (7 nights)
Dates from mid April to mid May (may vary)

Arriving
Ver mapa más grande
Accomodation & Meals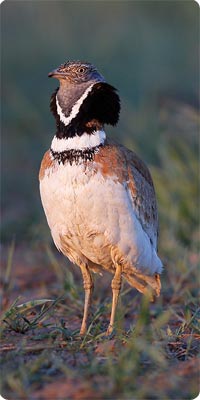 Organized by Castells de Lleida - Montiline
Guiding Service
The guides who will accompany the participants to the sites and who have prepared the terrain for the photographic sessions are qualified ecologists, birders and experienced nature photographers.
Available Equipment
Photographic hides

Vehicles for transport.
Recommended Equipment
Long (min. 400 mm) and medium (300 mm) telephoto lens + focal converters (1.4X - 2X)
Tripod
Warm clothing (min. 5ºC - 10ºC)

Batteries for all day in a hide without electricity
Number of Participants
Groups of three photographers (maximum) and one guide
Other Related Activities
Alternative program for possible companions:
For companions we have prepared a parallel circuit with gastronomy, wine-tasting, visits to castles, health and spa activities, shopping ...
(Prices according to availability and number of companions).
Observations
Call us and we will provide an estimate for the activity.
Tel. +34 973 40 20 45