include('images/headers/new-headers.php'); ?>
Natural Hotspot Holidays with BirdingInSpain.com
What is a hotspot holiday?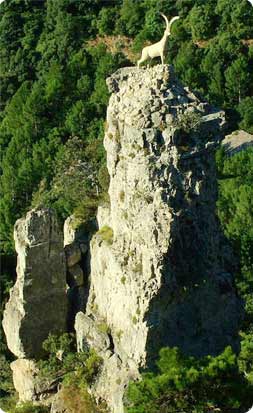 Basically it's for naturalists, mostly birders, but also very suitable for those with a broader wildlife interest. Especially for those who are not keen on being stuck in a minibus or car for most of the day and who really want to get out as much as possible.
Over a 4-day period you will be accommodated in a rural hotel or house, in the centre of an area of great wildlife/birding interest. If you are so inclined you can get on a bicycle and start investigating the area. More conventional visitors will be driven in the usual manner to a site within close reach of the hotel, and then be guided along a route which allows them to walk and enjoy the scenery and the wildlife
The Montsec natural hotspot for example has over 120 species of breeding birds, and these include such jewels as Lammergeier, Bonelli's Eagle, Eagle Owl, Red-necked Nightjar, Little Bustard, Roller, Lesser Kestrel, Calandra Lark, Great Spotted Cuckoo, Black Wheatear and many more.
Montsec is quite an extraordinary place for raptors too, as 24 species of diurnal birds of prey have been recorded in the area, along with 7 species of owl.
The Ebro Delta natural hotspot is equally diverse, although the range of bird species that you can expect to find is quite different, including as it does species such as:
Audouin's Gull, Slender-billed Gull, Mediterranean Gull, Gull-billed Tern, Caspian Tern, Whiskered Tern, Collared Pratincole, Glossy Ibis, Purple Gallinule, Greater Flamingo, Lesser Short-toed Lark, Red-rumped Swallow, etc.