include('images/headers/new-headers.php'); ?>
Photographing Little Bustard: centred on the birds of the drylands of Lleida - Birdinginspain.com
Description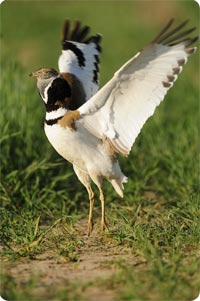 Trip duration: 3 days / 4 nights.
A photographic trip in the drylands of Lleida especially for bird photographers keen on photographing the Little Bustard and other species of the drylands.
The relatively unknown steppes of Lleida are one of the most unique habitats in Catalonia. They are home to plants and animals which are absent or scarce elsewhere in Europe.
The trip's target birds have all adapted well to the poorly productive and seasonal dryland environment. As such they are species which breed only in the drylands and nowhere else.
Bird Species
Species to photograph:
Main species: Little Bustard Tetrax tetrax.
Additional species: Hoopoe Upupa epops, Bee-eater Merops apiaster, Little Owl Athene noctua, Roller Coracius garrulus, Lesser Kestrel Falco naumanni, Montagu's Harrier Circus pygargus
Other interesting birds: More than 30 species photographed from our fantastic pool hide at Montsonís
Price
Price: Consult for prices for individuals, small groups and tour operators.
The price includes all transport during the trip, all meals, guiding, use of hides, and accommodation in a twin en-suite room. For an additional supplement you can be met at Reus or Barcelona airport
For more information contact Steve West - steve@birdinginspain.com
Dates
Spring program – 3 days (4 nights)
From mid-April to end of May (may vary)

Arriving
Accomodation & Meals
Every aspect of the photographic trip is organized so that not only the photography is a success, but also that the accommodation is comfortable and the meals are of the best quality.
Guiding Service
The guides who will accompany the participants to the sites and who have prepared the terrain for the photographic sessions are qualified ecologists, birders and experienced nature photographers.
Available Equipment
Photographic hides
Vehicles for transport
Recommended Equipment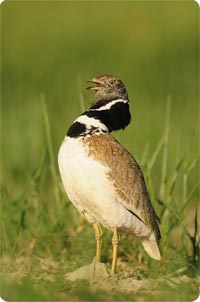 Long (min. 400 mm) and medium (300 mm) telephoto lens + focal converters (1.4X - 2X).
Tripod.
Warm clothing (minimum temperature 5ºC - 10ºC)

Number of Participants
Groups of three photographers (maximum) and one guide.
Other Related Activities
Alternative program for possible companions:
For companions we have prepared a parallel circuit with gastronomy, wine-tasting, visits to castles, health and spa activities, shopping ...

(Prices according to availability and number of companions).

Observations
Call us and we will provide an estimate of the activity.
Tel. +34 973 40 20 45
Contact