BirdinginSpain.com - Birds and Birding Tours in northeast Spain:
Plan your Birding trip to Catalonia, Aragon and Navarra
In Birding in Spain you'll find all kinds of information about birds, both common and rare, and plenty of reasons for birding in northeast Spain. Also featured are Books by Steve West who has birded this region extensively since 1988. Consider, if you like, the possibility of contracting him as a guide/ground agent for a birding tour, or simply follow his advice and study the carefully selected itineraries to enjoy some of the best birding experiences that the region has to offer.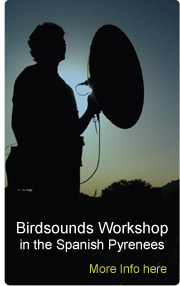 If you decide to come on a guided tour or just want to follow any of our recommended birding itineraries you really should check our sponsors – quality rural accommodation close to the best birding sites in northeast Spain. Also, there's no reason why you shouldn't bring your family too. If they don't share your interest in birds and don't want to participate in a birding tour then they can be directed to interesting sites of tourism interest nearby, or could even be persuaded to take part in some novel and exciting activities. In other words birding or…ballooning, rafting, cycling, wining and dining, etc.
Professional bird photographers can take advantage of BirdingInSpain.com's unrivalled local knowledge, support conservation initiatives and take home some excellent shots with our Birding Phototrips, as this video demonstrates.
Birding in Spain also offers a section dedicated to kids, called Kid's Stuff where the younger ones can paint, play a new bird card game and generally discover more about the rare and fascinating bird species found in the northeast of Spain. That's not enough for you? Then visit our Free Downloads section.
Apart from being a keen birder, Steve West is also fluent in Catalan and Spanish, and in fact much of his time is occupied in translation work. If you have anything you want to translate between English and Catalan/Spanish then feel free to ask for a quote.
What, more questions? Then contact Steve West for a more personalised response.