S'Albufera Natural Park Itinerary
Starting Point: The reserve car park on the right hand side of the road between Hotel Playa Esperanza and Palace de Muro, along the C712 when heading south out of  Port d'Alcúdia.
Time: About half a day.
Birding Itinerary
Follow on foot from the designated car park, walking back along the road towards Port d'Alcúdia and then turning left into the park's "driveway". A bush and tree-lined drive runs parallel to a wide channel leading into the heart of the park
. Birds normally encountered here include Cetti's Warbler, Fan-tailed Warbler and Night Herons, which may be roosting in the bushes. The bushes and trees are also good for migrant warblers, flycatchers and the odd Golden Oriole.
Check the reed-fringed areas en-route for Moustached Warbler, Great Reed Warbler and Reed Warbler, while Serin and Sardinian Warbler can be found in the central visitor zone
. Free-swimming Crested Coots are readily viewable in the nearby canal!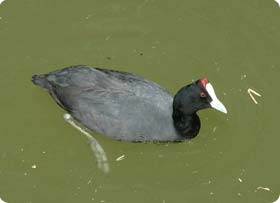 After calling in at reception and picking up a permit and reserve map it is time to decide how much time you have for birding the area, and how much walking you want to do. The following itinerary is the "short option", which allows you to see a good variety of birds in a relatively short space of time: it can be adapted at will.
Follow the path that leads SW outside the reception area. This leads to the CIM hide
, which overlooks a pool and surrounding marshes. Here you can see Little and Cattle Egret, Purple Gallinule, Red-crested Pochard, Black-winged Stilt and an assortment of ducks, marsh terns and waders depending on the time of year.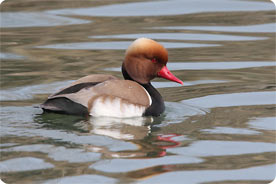 Red-crested Pochard - Photo by Beat Rüegger
From here follow the path to a mound
which serves as a raised viewing platform over the reedbeds
. Look out for Purple Heron, Marsh Harrier and Eleonora's Falcon, as well as other birds in flight over the reeds.
Following the path you will shortly reach three stone bridges that cross the main canals
. It is worth lingering at this spot in the hope of seeing Osprey, Little Bittern and a variety of duck species on the open water.