S'Albufereta Natural Reserve - The western fringe of S'Albufereta Itinerary
Starting point: The road leading inland in front of the Bar Llenaire, off the PM-222 in the south of Port de Pollença.
Time: Up to half a day (itineraries i and ii).
Birding Itinerary
Approaching from the south turn left off the PM-222 in front of Bar Llenaire as you enter Port de Pollença. The fields and orchards along the initial stretch of road are attractive for migrant birds, and so depending on the time of year it is worth stopping at different points to check for Hoopoe, Bee-eater, Golden Oriole, Woodchat Shrike, Redstart, Whinchat, Subalpine Warbler, etc.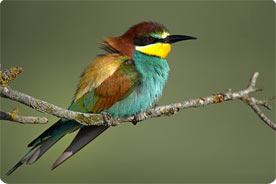 Bee-eater - Photo by Joan Manel Puig
Drive on until you reach a small bridge over a tree-lined stream (about 1.5km from the PM-222). Again, a short stop is recommended for Nightingale and migrant birds, especially warblers.
Here a narrow road leads along the stream back towards the coast; ignore it and follow the same road as before, taking the first left and then following the road as it bears sharply to the right. Turn left at the following junction and you will almost immediately come upon a sign welcoming you to the S'Albufereta reserve. Bear right here, crossing a wider stream ("Ulls del Rec")

and make discretional stops wherever possible to check for birds such as Nightingale, Night Heron, Little Egret and migrant flycatchers and warblers.
The road then veers away from the stream to the right, follow it and take the next main turning left. Following this road to its end will allow you limited views of the reserve from its southwestern edge before reaching the C-713, the Alcúdia-Inca road. To get reasonable views of the open water and marshes

from this stretch it is better to park sensibly and to follow one of the gravel drives on the left-hand side of the road on foot (there are no signs and the tracks and drives obviously lead to private property, although some areas are visibly more private than others!).
From one of these points it will be possible to see some areas of open water and birds such as Purple Gallinule, Great White Egret, Cattle Egret, Purple Heron, Red-crested Pochard, Marsh Harrier, Osprey, Fan-tailed Warbler, Black-winged Stilt and marsh terns in the spring.
On completing this itinerary it is recommended that you continue to southern tip itinerary .
Note: The best way of following this itinerary is by bicycle, although the indications here are for car-drivers.