S'Albufereta Natural Reserve - The southern tip of S'Albufereta Itinerary
Starting point: The parking area on the western edge of the PM-222, just south of the Albufereta stream to the north of Alcúdia.
Time: 1-2 hours.
Birding Itinerary
Follow the path that descends NW from the main road in front of a row of houses and then curves to the left. Pass the last new house on the left and soon you will cross a narrow channel. Fan-tailed Warbler, migrant Bluethroats and Green Sandpiper can be seen here, and you should also check the open areas for pipits and wheatears. Tree Sparrow and Corn Bunting may also be detected in the general area. A track to the right leads to a farm building and barking dogs; bear to the left and go past a small stone construction on your right. 
On reaching a small pine wood look for a discreet path leading through the pines (marked by a large Aloe Vera plant in 2008) and follow this between two stone walls.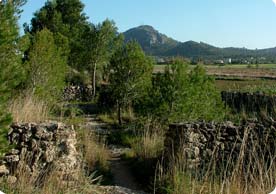 This area is often sheltered from the wind and can attract a good number of migrant passerines, especially wheatears, flycatchers, redstarts and warblers.
Out of the woods the path ascends to a mound, which offers good views of the surrounding wetlands and fields

and is the best single birding spot on this itinerary. Spend some time scanning from here: the saline lake may hold Greater Flamingo, Black-winged Stilt, and gulls among others; while birds of prey could include Marsh Harrier, Osprey and Eleonora's Falcon from late spring onwards. Pleasant surprises often turn up too and then may occur as Collared Pratincole, Squacco Heron, Red-rumped Swallow, etc.
From the mound skirt around the southern edge of the Sa Barcassa lake and follow the path eastwards to reach the outskirts of Alcúdia, and then follow the main road back to the car. Alternatively, retrace your steps from this point. 
Note: From mid-April through to May the area of the S'Albufereta that can be accessed from the parking area at Club Pollentia can be a good one for migrant Red-footed Falcons.