The Tramuntana Range -
Lluc Monastery and the Cuber Reservoir
Starting point: The eastern edge of Pollença, on the C-710 in the direction of Sóller.
Time: 3-6 hours, depending on the amount of walking and birding.
Birding Itinerary:
Some 6 kilometres out of Pollença the road starts a steep ascent. Bear in mind that the road is narrow, winding and that there are virtually no good places to stop until shortly before the Lluc Monastery. Go past Vinyes Mortitx, a private estate near PK 15 and, if time allows, pull off the road at the recreational area at PK17. This stop offers the first views of the Lluc Monastery
, scenic photos of the mountains and a chance to observe the species that you may have heard on the ascent including Firecrest, Crossbill and Blackcap.
A little further on a walk around the attractive grounds of the Lluc Monastery will enable you to see a similar array of birds, as well as perhaps Wryneck, Booted Eagle and a first sighting of Black Vulture over the mountains. This is also the ideal place for a tea or coffee.
Turn right at the junction towards Sóller and stop at the Escorca viewpoint
(there is a small layby on the right). The views alone are impressive but one can also see birds like Crag Martin and Booted Eagle. Additional stopping points before reaching the Cuber reservoir are the turning for Sa Calobra
(mostly to scan for Black Vulture) and then through the tunnel at the Gorg Blau reservoir. Here one may add Red Kite, Osprey and even Eleonora's Falcon in the summer months.
Continue on to the parking area for the Cuber reservoir
, just before PK34. Leave the car and continue on foot, making sure that you do not leave any valuables in the car. It is possible to walk round the shores of the reservoir in either direction.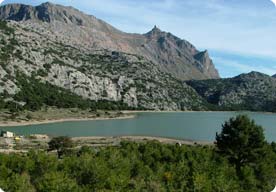 This is a prime site for birds of prey, with special emphasis on the Black Vulture and Booted Eagle. Look out also for Red Kite and Peregrine, as well as Cirl Bunting, Tawny Pipit, Serin and Sardinian Warbler. With some luck the Spectacled Warbler can also be found in the more open areas. This site is also known for holding breeding Rock Thrush, although it has proved a difficult species to see here in recent years.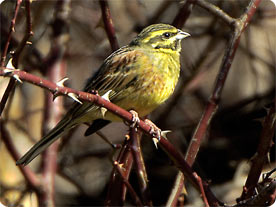 Cirl Bunting - Photo by Beat Rüegger
Return by the same route. If time permits it is worth making a short sortie into the Son Marc valley
, signed as the "Camí Vell de Lluc" on the right hand side of the road (when approaching Pollença) between PK5 and PK6. Although this is a dead-end route for cars  after several kilometres (so park and walk) it is a very attractive area with olive groves and a mountainous backdrop, and is as good a place as many others to search for migrants at the appropriate time of the year.