Southern Mallorca - Cap de Ses Salines Itinerary
Starting point: The eastern edge of Ses Salines.
Time: About 3 hours
Birding Itinerary
Take the PM-610 out of Ses Salines in the direction of Santanyí. Pass the Botanicactus garden centre and after about 2 kilometres you will see a turning on the right indicated "Far Cap de Ses Salines". Follow this road for 9 kilometres to the parking area just before the lighthouse
, making regular stops to look over the dry stone walls along the way.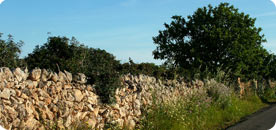 This very attractive area holds a good variety of interesting birds including Stone Curlew, Thekla Lark, Short-toed Lark, Woodchat Shrike, Hoopoe, Fan-tailed Warbler and abundant Red-legged Partridge. Its southerly position also means that it is well-placed for migrant birds such as Bee-eater and Montagu's Harrier.
Park near the lighthouse and walk along its wall to reach the sea. Turn left here over the rocks in front of the lighthouse
and explore the area of open coastal scrub. Apart from being an excellent site for botanising (look out for Ophrys orchids in spring for example) this area also holds Balearic Warbler and Linnet and is well worth checking for migrant passerines.
Leave yourself some time for a seawatch
, as this is probably the best point on Mallorca for seeing Balearic Shearwater and Cory's Shearwater, as well as Shag and Audouin's Gull. Return to the vehicle and head to Ses Salines to follow the next itinerary. If you are interested in walking a little more then turn left near PK2 along a narrow road signed "Camí des Fraret Gran", park sensibly and follow on foot to enjoy the plants, butterflies and spring colours of the Mallorcan countryside.

Note: this itinerary is really best enjoyed in the peace and quiet of the early morning