The Boquer Valley Itinerary


Starting point: On the northern edge of Port de Pollença, in the parking area overlooking a roundabout with olive trees and a sign reading "Aeròdrom militar". If approaching on foot from Port de Pollença follow the line of pines to the outskirts.
Time: 2-3 hours at an easy pace.
Birding Itinerary:
From the car park follow the track up the slope, looking for migrants in the trees and scrub, until you reach a private estate with gates and a sign. Pass through the gates - at present access is permitted through the estate - but do not linger on the private property.
Once through the second gate follow the path that takes you between two large rocks
. Search the area beyond
and the small stand of pines on the left for migrants, as well as Hoopoe and Sardinian Warbler.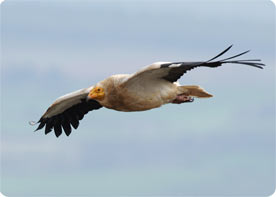 Egyptian Vulture - Photo by Beat Rüegger
Keep an eye out for raptors such as Booted Eagle and even the ocasional Black Vulture or Egyptian Vulture, while Raven, Crag Martin and Blue Rock Thrush may be found on or around the rock faces.
Continue along the path until the point where it is possible to descend to the cove
. This is a good general area in which to concentrate the search for Balearic Warbler, which will usually appear with some patience and a little luck. Eleonora's Falcon is also a regular visitor in the sumer months.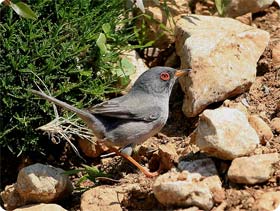 Balearic Warbler Sylvia balearica - Photo by: Paul Vallender

Return along the same path.