The Llobregat Delta -
Itinerary
Starting point: The Remolar reserve car park.
Time: 3-4 hours at an easy pace.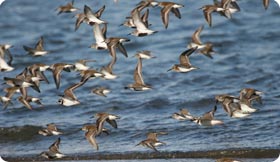 When approaching from Barcelona along the C-31 you should turn of at Gavamar in order to change direction and head back towards Barcelona. Shortly you will see the signs to the reserve on the right (and Camping Toro Bravo, which no longer exists). Follow this road which runs alongside the Vidala until the car park at the end. Stop along the way to look for water birds: ducks, grebes, herons and migrating marsh terns (Whiskered, Black and occasionally White-winged Terns). Penduline Tits are seen here at times and the Moustached Warbler can be detected in the non-breeding season.
From the car park follow on foot through the gate and on to the information centre. From here turn right towards the main hide. The reedbeds and open scrubbier areas can reveal an interesting array of birds including Fan-tailed, Great Reed and Cetti's Warblers, Purple Gallinule, Little Bittern and Water Rail. From the screens and the hide itself you can see a wide variety of wetland species, including Garganey, Black-winged Stilt, Spotted Redshank, Curlew Sandpiper, Ruff, Spoonbill, Greater Flamingo, Little Gull, Mediterranean Gull, and Audouin's Gull, to name just some. In the winter months the Great Bittern often puts in an appearance, and the Red-rumped Swallow can often be seen on migration in the spring or autumn. 
Head back along the path to the remaining hide, looking for migrants in the bushes on the way. Monk Parakeets have established themselves in this area and are noisy enough not to be overlooked. From the hide itself you should see Night Heron in addition to many of the previously mentioned species.
Exit the reserve, walk past the car park and follow a sandy track that runs between pine trees and a channel on the right. In the spring listen out for the strident calls of the Great Spotted Cuckoo. At the end of this path there is an observation tower on the beach. A seawatch can be productive with Cory's Shearwater, Balearic Shearwater, divers, grebes, auks and Common Scoter, Gannet and the occasional skua.
Note: the main reserve closes at 3pm on week days.