Aiguamolls de l'Empordà -
Vilaüt Itinerary
Starting point: Castelló d'Empúries
Time: 2-4 hours
On the left bank of the River Muga follow the C-260 to the southeast corner of Castelló d'Empúries and turn left onto a narrow road that leads to Palau-saverdera. After some 3km the road takes you within easy reach of a modest stretch of riverside woodland on your right, flanking la Mugueta. Investigate the area on foot, as here you have a chance of Penduline Tit, Golden Oriole, Hobby and migrating passerines. 
Returning to the vehicle, drive the short distance to the three bridges (Tres Ponts) and make a short stop to survey the reeds and open water for warblers, Purple Heron, Little Egret, grebes and, with a touch of good fortune, Night Heron and Great Bittern.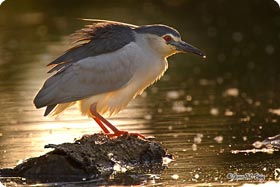 Continue on past the path that leads to the Vilaüt lagoon and park sensibly. Walk back along the road and follow the path, now on the right. This is an attractive area which offers good chances of seeing a variety of birds like Short-toed Eagle, Booted Eagle, Roller, Bee-eater and Woodchat Shrike. Red-footed Falcons often show up here in late spring.
The lagoon itself can be very interesting if the water level is right. Purple Gallinules are common and easily viewed whilst there is Cattle Egret and often a good variety of waders and ducks. This spot has also been known to produce more unusual birds now and then, including Little and Baillon's Crake.
Return to the vehicle and drive on to the GI-610 at Palau-saverdera. You may wish to stop a little before the junction to search for Sardinian Warbler and Great Spotted Cuckoo in the olive groves. At the junction turn left and then left again after some 2.5km onto the minor road that leads back to Castelló d'Empúries.  
The last port of call, l'Estanyet, is some 3kms before Castelló on the left-hand side of the road. If there is an area of open water visible from the road it is interesting for observing passage waders such as Ruff, Spotted Redshank, Wood Sandpiper, etc.