The Tramuntana Range -
Lluc Monastery and the Cuber Reservoir
The Tramuntana is an imposing  range of limestone mountains stretching along the north coast of Mallorca. The highest point is at Puig Major, overlooking the Cuber reservoir and standing at 1,432 m above sea level. For the most part the vegetation consists of pine forest and steep, scrub-covered slopes.
To a large degree it is this very steepness and relative inaccessibility that provides a refuge for birds of prey, including the emblematic Black Vulture.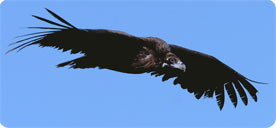 Black Vulture - Photo by: Rafael Palomo
Bird Species that can be found on the Tramuntana Range:
Egyptian Vulture
Black Vulture
Osprey
Booted Eagle
Red Kite
Eleonora's Falcon
Peregrine Falcon
Wryneck
Crag Martin
Tawny Pipit
(Rock Thrush)
Spectacled Warbler
Sardinian Warbler
Firecrest
Serin
Crossbill
Cirl Bunting