The Artà Peninsula -
Artà to Cala Mitjana Itinerary
Approaching Artà along the Manacor road (C-715) follow the signs for Capdepera until you see a Petronor petrol station on your left on the outskirts of Artà. Turn left here and then right in front of the restaurant Sa Teulera. Follow this road all the way to the coast.
The first stretch of the road passes fields and orchards where the species to look for are Cirl Bunting, Hoopoe, Serin, Firecrest, etc. The road ascends and you reach the foot of a large escarpment on your right, good for Booted Eagle and Raven.
From here continue to a pronounced right hand bend with space for parking on the left. A short walk from here to the forest track

some 150m ahead can produce sightings of Stone Curlew and Hoopoe among others.
Drive a little further and park at the viewpoint on the right-hand side of the road. Apart from the excellent views of the hills you can also see Crag Martin, Booted Eagle and Balearic Warbler. The latter species can be detected between here and the coast in the roadside scrub

.
Continue to the coast to the point where the road becomes a rough track with many potholes. This track can be driven with care, although it is probably best to park and walk down to the coast, looking for Tawny Pipit, Thekla Lark and warblers on the way.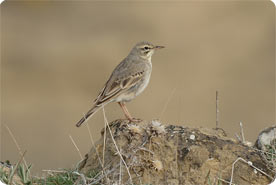 Tawny Pipit- Photo by Beat Rüegger
Taking the left fork, before you reach the sea

you will encounter a footpath on the left that leads to a small headland with views over the sea and a rocky islet. Pallid Swifts apparently breed on this islet, and the birds that can be seen over the sea include Audouin's Gull, Shag, Balearic Shearwater and Cory's Shearwater. Furthermore Thekla Lark and Tawny Pipit can be found in the coastal scrub.